DURHAM (WTVD) -- The Salvation Army is working to close the digital divide in Durham by helping children in low-income families get access to computers.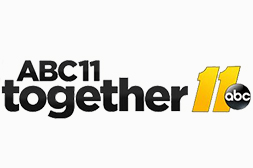 Thursday, the organization presented orange and yellow boxes to a group of Durham teens to help them reach their goals in school. The boxes contained parts to their new computers, which the teens will be assembling themselves.
"The first part is the orange boxes that are behind us," said Toya East with GitHub. "That is the actual computer which they put together. And then the second part, once everybody is up to speed, we give them the monitor which is the screen, and it is a fully functioning computer."
The Salvation Army Boys and Girls Club of Durham partnered with Connect Home, a White House initiative, along with Durham Libraries and Housing, to bring free computers and training to students who need them most.
East, from GitHub in California, is leading the free interactive workshops for students ages 14-18.
"They'll learn how to code, they can surf the internet," East explained. "It comes with a keyboard as well so they can use it for social media or to use it to type a paper. Whatever they choose to use it for!"
Rising 10th grader Nyasia Bonds admits building her own computer was a little tricky at first.
"But once you get the hang of it, and read and take your time and go through the steps, it comes easier," Bonds said. "And it's really interesting to know the different parts."
That's the goal: keeping the students engaged.
"I hear them talking about Snap Chat and Instagram," said Tammie Sellman with the Salvation Army. "Also being able to take home technology is a tremendous asset for them."
And it's an asset that may lead to better grades, and a bright future.
"It's just great, the satisfaction of them thinking they can't do it...and they figure out, 'wait! I can do this.' And they have a fully functioning computer that they built themselves," East shared.
TO LEARN MORE ABOUT THE SALVATION ARMY BOYS & GIRLS CLUB OF DURHAM, CLICK HERE
Report a Typo