DURHAM, North Carolina (WTVD) -- A working television is all that Doris Cooper wanted, and for Christmas, she was given a Samsung TV.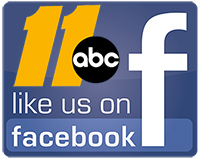 She enjoyed it for a few months until the picture went out.
"All of a sudden I looked around and I saw all these numbers and letters and something across the TV," Cooper said. "I thought what in the world and after that it wouldn't play the picture anymore."
The TV was still under warranty so she called Samsung. She says she was told to send in the receipt, but because it was a Christmas gift, she didn't have the receipt.
Stay on top of consumer news with the ABC11 News App
She did go back to the store it was purchased at and they gave her an e-receipt. She sent that off to Samsung but got the bad news.
"They sent it back and said they couldn't honor it as it's not the original receipt," she said.
Cooper said she couldn't understand why the e-receipt was not good enough as it did state the TV that was purchased and the amount paid. She got in touch with me.
I got all of the information off to Samsung. It didn't take long for Cooper to hear from Samsung, who sent a technician to her home to repair the TV.
"I can watch TV in the comfort of my bedroom, when I don't want to sit out in the den," Cooper said. "It's all worked out, thanks to you."
A rep with Samsung provided me with this statement:
"We are aware of Mrs. Cooper's experience and have resolved the matter with her. Anyone with questions should contact us directly at 1-800-SAMSUNG so that we can help them."
Report a Typo