DURHAM (WTVD) -- Frank Napp is a World War II Navy Veteran and on Friday, he received a special birthday surprise at a local grocery store in Durham.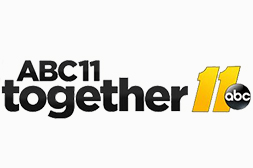 Frank turns 93 on Saturday and his friends at the Harris Teeter he frequents wanted to show their gratitude for his service by surprising him with a custom battleship cake.
ABC11 first heard about Frank from a Facebook tip sent in by his caregiver, Cindi.
A navy veteran who is a first generation American and one of 12 children, Frank moved to North Carolina from Arizona two years ago to live with his daughter, Lisa.
Frank has been married to his wife, Marlene, for almost 65 years and they have six children together.
Marlene was right by Frank's side when he saw his navy battleship cake for the first time on Friday.
Mykola Pawlenko, the man who put this whole plan into action, went to his managers at Harris Teeter and asked if he could honor Frank with a special cake for his very special birthday.
Mykola helps Frank every week when he makes the trip from Hillsborough to Durham and Mykola wanted to honor a man he says is the reason he is allowed to live in the United States.
"It's guys like Frank that make it possible for me to be here," he added.
Mykola grew up in a Ukrainian neighborhood in Chicago and is very grateful for the bond he now has with his friend.
As Frank made his way into the store, Mykola's smile got bigger and bigger. He was even moved to tears.
Among the crowd to greet Frank was state Senator Mike Woodard, who wanted to take the time to honor this navy vet.
Lisa Figueroa, an army veteran herself, stopped by to thank Frank for his service.
"I come from a military family and looking at that cake makes me think of my grandpa," Figueroa added.
Lisa Rogers, the baker who made the cake says she couldn't believe it when she was asked to bake and decorate Frank's cake.
Surrounded by his wife, daughter, granddaughter, and other family and friends, Frank cut his surprise birthday cake and immediately dug in.
"This means the world to me and to my papa," Lisa Napp said.
With a smile on his face and the faces of everyone in Harris Teeter Friday afternoon, Frank ate his birthday cake, while his friends and family took in every precious moment with their American hero.
Report a Typo