RALEIGH (WTVD) -- Delivering the simple gift of clean water. A Raleigh businessman has made it his mission to do just that to the people of Flint, Mich.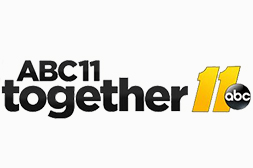 James Montague, who goes by Monte, owns the Statue Side Business Plaza on Rock Quarry Road. Back in January he recalled hearing the stories out of Flint, about the unprecedented water crisis there.
"We take water for granted. If you look at just the basic things like brushing your teeth, washing your face, cooking, cleaning, washing your clothes, things we take for granted every day, they can't do that right now," Montague said.
That kept him up at night.
"They said 9,000 children had been poisoned, lead poisoned and they're going to have long lasting effects because of that, that really got to me so I said we have to do something about it," recalled Montague, who then called his sister and friends to start collecting clean water.
The response from the community was overwhelming.
"When we put the call out, they were saying we were waiting for somebody to let us join in in this, it wasn't like we had beg people for it they were just like okay when can I bring the water?" Montague said. "And they were just bringing it and bringing it and bringing it."
Photos: Water from Raleigh effort helps Flint's residents
The donations poured in. The goal was to raise at least 10,000 bottles. Within just days that number topped 40,000.
He said the Monte salon, the Southeast Raleigh Community Center and barber shop in his plaza filled with donations.
On Jan. 30, when they started to fill the 18-wheeler that would haul those 40,000 bottles more than 700 miles to Flint, Montague said strangers came out of nowhere to help.
He said people driving by saw what they were doing and stopped to help. He and the woman who runs the community center in the plaza, Bernadette McAllister, say this really connected the community in Raleigh as much as it helped the people of Flint.
The driver of the 18-wheeler who hauled the water is Will Brown with MBD Logistics.
Brown delivered the water to the Second Chance Ministries in Flint, a church that has been helping distribute water donations. To date, Montague said those at the church tell him that donation all the way from Raleigh was the largest one it had received.
Ever since that Jan. 30 donation, Montague said the calls to help and donations are still coming in.
"We ended up getting support from all over North Carolina. And this time we got a call last night from someone in Charlotte that said they wanted to be a part of it," said Montague, who is already storing hundreds of cases people have since donated. "Somebody is going to bring 100 more cases this Friday."
If you would like to donate, just bring bottled water to 918 Rock Quarry Road.
Or if you would like to donate money to help with gas for the truck to make it to and from Flint, you can
donate here
:
Report a Typo