RALEIGH (WTVD) -- The frigid temperatures broke records Friday morning and wreaked havoc across the Triangle.
Temperatures started Friday morning in the middle single digits and broke the old record low for the date of 13, set in 1979.
Click here for the latest weather forecast.
Click here to download the ABC11 First Alert Weather app.
The cold is causing black ice to linger and travel problems for drivers along elevated roadways, bridges, and ramps. Secondary streets and neighborhood roadways have been especially vulnerable to the icy conditions.
In Raleigh, the chilly temperatures caused a water main to break along Ingram and Carolyn drives Friday, forcing police to shut down Ingram Drive between Atlantic Avenue and Brentwood Road around 5 a.m. due to the water freezing in the single digit temperatures.
Around the same time, an ambulance got stuck for over an hour on Charleston Road near NC State University in Southwest Raleigh early Friday morning. The emergency vehicle from Apex was responding to a medical call at an apartment complex when it got stuck. A DOT salt truck has since treated the road.
Fire concerns and broken pipes
Fire departments statewide were stretched thin responding to people's pipes bursting and fires sparked by unsafe heating methods according to a fire education specialist in Wake County.
One example happened in Durham just after 9 a.m. Friday when firefighters responded to a fully engulfed home in the 2100-block of Pershing Street. The fire did not injure anyone, but it damaged about half of the house. Investigators later revealed that propane heaters used to thaw frozen line ignited combustible materials that the residents had placed too close to the heater.
"We're so used to all our comforts: electricity, water. Nobody wants to be without those," said Fire Education Specialist Alicia Dismuke. "We will do anything with our power to get those thawed out faster and sometimes the best and safest approach is just to wait it out and wait for the temperatures to come back above freezing."
Dismuke says you should reserve propane heaters for outdoor use, and about the only thing you can safely use to thaw frozen pipes is a blow dryer, otherwise you could be playing with fire.
According to experts pipes usually freeze in the winter when they aren't insulated enough. Dismuke says if you don't know how to fix it, you should call someone who is trained like a plumber.
She says when the sun hits attics at the right angle -- warming them up just above freezing -- the frozen pipes usually burst. Fire Departments and Public Works Departments can turn off your water supply to stop the leaking if that happens.
Meanwhile, an Apex man is just starting to deal with a massive mess he came home to -- a burst pipe caused significant structural damage.
Doug Tanner invited ABC11 inside his home on Baybark Circle seconds after the ceiling collapsed.
"I opened up the door and here it was," said Tanner.
Tanner's carpets were soaked with water and there was insulation all over. The mess covered the kitchen floor and countertop. In the living room, there was insulation by the TV, and on framed pictures and sports memorabilia. The beams of the house were exposed and water was dripping off of the cracked ceiling.
"It's supposed to go down to freezing tonight and I'm afraid the whole thing goes," said Tanner, who has lived in the house for 25 years.
As recommended, Tanner left his kitchen sink faucet was running while he was away at work.
"Guess I'm lucky up until this morning," said Tanner.
A plumber explains that if you just leave the cold side open, the pipe on the hot side has the potential to burst.
"You want to keep a small stream of water running on a tab inside the house preferably having the hot and the cold," said Robert Poole from Poole's Plumbing.
Tanner called his plumber to come over and make an emergency repair. He plans on staying a friend until the work is done.
Despite everything that needs to be fixed and cleaned, the special needs school teacher has a pretty good outlook.
"A house is a pile of sticks," said Tanner. "Nobody's hurt. Nobody's injured. It's the people in the house that make the home."
Click here for tips to keep your water pipes from freezing.
Power Outages
The deep freeze was also to blame for a power outage in the area of New Bern Avenue and Trawick Road in Raleigh early Friday. Over 1,000 customers were without heat and Raleigh police reported several traffic lights out in the area.
Duke Energy Progress is asking customers to conserve energy during the cold snap.
"Even something as simple as turning off lights in a room when you leave or unplugging chargers, if you're not needing them," said spokesperson Jeff Brooks, "turning your thermostat down a couple of degrees. Maybe a couple more when you left the house for the day can really make a big difference when you multiply it by all the customers we have on our system."
The company says energy demands have been high all week as all of us have been kicking up the heat to handle the Arctic air.
"Whenever you have extreme temperatures, it puts a lot of strain on equipment on the grid as well. The grid is a machine, so any machine in extreme conditions has the potential for isolated outages that could occur," said Brooks.
Dangerous weather conditions
The record cold has homeless shelters waving the white flag so that people know they can find a warm place to sleep.
Officials say with wind chills this low, frostbite can occur on exposed skin in less than 10 minutes.
Click here for cold weather shelters for the homeless in Wake County.
Weekend Warm-up
The cold air will begin to moderate a bit on Saturday, but a new storm system will bring some freezing rain during the midday hours as highs reach the 40's. There is a chance of a light wintry mix along and north of I-85 for a brief time Saturday through midday, but should change to rain by afternoon.
Showers will be around Sunday with relatively mild temperatures in the upper 40s and low 50s. Colder air return next week, but it doesn't look to be as cold as it is now.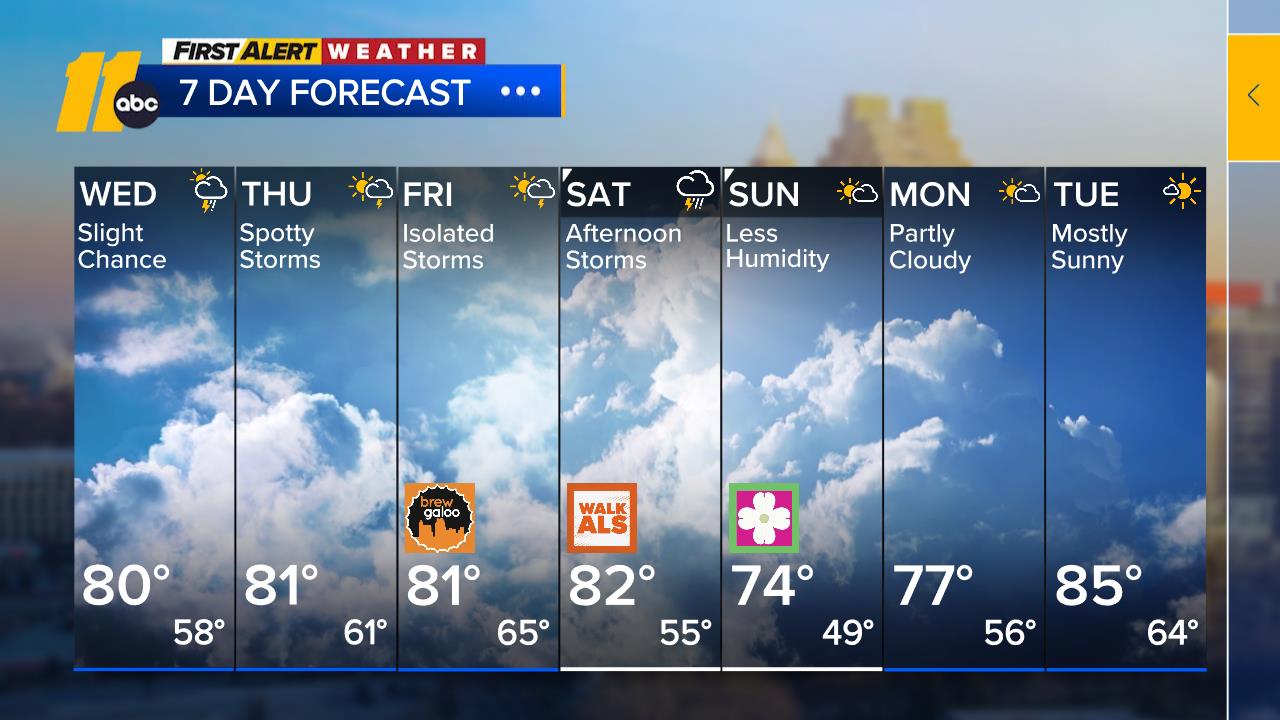 Report a Typo