RALEIGH, N.C. (WTVD) -- Highs were much cooler today reaching the low 70s. Temperatures will gradually warm through the weekend.
Low pressure will be spinning up along the Carolina coast later today into tonight, and then head northeast overnight into tomorrow. At the same time, a weak storm system will move out of the Midwest and across the Ohio Valley tonight. The combination of these two features will bring more clouds back into the area again tonight.
The system approaching from the west will pull some moisture from that coastal low back toward us tomorrow morning. That will help to develop some showers and thunderstorms across central North Carolina. It looks like the best chance to see any thunder will be during the early to mid portions of the afternoon. The storms will continue to move east to the coast during the late afternoon. Overall, rainfall amounts will range between 0.15 to 0.30 inches. Depending on whether we catch a heavier downpour, the rainfall amounts could be slightly higher or lower. The combination of clouds and showers should keep us no better than the upper 60s tomorrow.
The pattern settles down a bit and dry weather will be in control through the weekend with a warming trend as the flow turns more out of the southwest. Mother's Day will be dry and warm with highs reaching the low 80s.
Another storm will likely bring some showers and thunderstorms to the region on Monday, though that boundary is looking a little slower today, so we have shifted the focus for the rainfall to the afternoon. High pressure to our north will work to keep us dry on Tuesday. The next chance to see showers and thunderstorms will be on Wednesday and Thursday with the approach of an upper level trough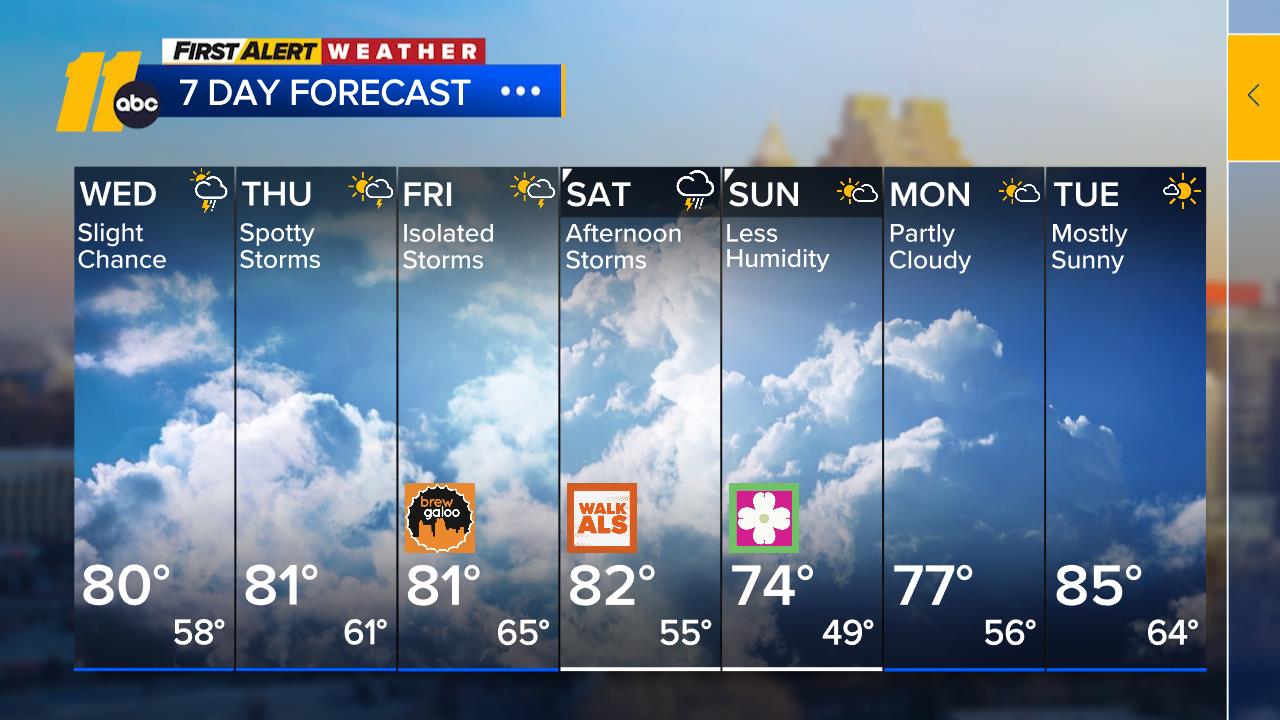 Have a great evening!
-Brittany Bell