RALEIGH, North Carolina (WTVD) -- The day in November 2015 when a car hit Raleigh chef Mike Thor, throwing him from his motorcycle into a pole leaving him paralyzed, the restaurant he'd been dreaming up for years was under construction.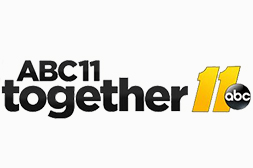 Now, months after its grand opening, Thor is back in Raleigh and experiencing Whiskey Kitchen for the first time just as it prepares to host a fundraiser in his honor on Sunday.
CLICK HERE TO DONATE
Situated in downtown Raleigh, the restaurant and bar co-owned by Thor's friend and business partner Jeff Mickel, draws crowds either for its whiskey selection, lunch and dinner options, or the relaxed atmosphere in the middle of a bustling city.
For Thor, who moved to Georgia with his wife and full-time caregiver Sarah, where he could undergo therapy for the last year and a half, it's been a long time coming.
"I was telling these guys right after the accident- I said give me two months I'll be back on my feet, working in the kitchen," said Thor.
There have been small victories with his rehab in Atlanta's Shepherd Center, but there have also been hard days.
"I just don't understand what more I can do for you," said Sarah. "At a certain point there's just not much you can do and it's just sad to watch it not get better in that moment."
While Thor said he was nervous making the trip back to Raleigh for the first time since his life changed forever, Mickel says he was nervous too.
"I wanted to make him proud of what we've been able to do, being one man down," Mickel shared.
"I could not be more proud," Thor said.
He and Sarah are only visiting for a few days, and while she says the trip from Atlanta wasn't easy, it was worth it to see him finally in the business he helped create.
"It's great! I'm glad he can come here multiple days in a row and be involved in the space, see how it runs, see how it works and hopefully that will help him be more motivated and more into trying to make it work," she said.
Thor suffered a C2 spinal cord injury. His recovery started with slight movement in his legs, but he's still reliant on a wheelchair he steers with a "sip and puff" device he operated with his mouth.
"It took a lot of processing," Sarah said of her husband's paralysis. "I'm still processing it. We're still not sure what his recovery is gonna be like, how long it will take; no doctor can ever really tell you that. Every injury is completely different."
But recovery is possible, and that's why the Thors are still fighting.
They're sharing their story on social media using the hashtag "thornomenalrecovery." With a successful business up and running while he contributes from afar, they're hoping for something even more phenomenal to happen.
"I still totally plan on being back to myself again," said Thor. "And that'll be a phenomenal, phenomenal feat right there."
Whiskey Kitchen is hosting a fundraiser this Sunday to help cover Thor's medical expenses; 20 percent of the proceeds will go to the non-profit, Help Hope Live, which will, in turn, cover his needs.
CLICK HERE TO LEARN MORE
There will be live music and beer provided by Wicked Weed Brewing.
Thor said he's looking forward to seeing many from the community who have supported him from the beginning.
"It's gonna be a big party," he said.
Report a Typo