A North Carolina family is sharing their story of unimaginable joy and heartbreak in hope it will show others that there can be hope amidst sorrow. After over a year of trying to conceive, Lindsey Justice became pregnant with septuplets, but then lost the babies at 21 weeks. But the family is holding onto its faith and looking ahead to the future and the possibility of one day having more children.
"There is hope in a broken world and that's our message," Lindsey told ABC.
Lindsey and Steve Justice married in 2009 after meeting as students at Wake Forrest University. They were both athletes and Steve went on to play in the NFL before the they opened their own business as personal trainers outside of Charlotte, North Carolina.
Lindsey became pregnant with their first daughter almost immediately following their honeymoon. Hope followed Hannah two years later.
"We just knew from God that we weren't done growing our family. I and Steve have a big desire for a large family and so we had a great peace about trying for more children."
After a year of unsuccessfully trying for a third child, the Justices reached out to a fertility clinic and learned she had polycystic ovarian syndrome, which can make it difficult to get pregnant. Lindsey began a conservative course of fertility treatments, taking medication to help her ovulate.
Lindsey found out she was pregnant the morning of Steve's 30th birthday. Six weeks into her pregnancy, Lindsey found out she could be carrying as many as six embryos. By eight weeks, the ultrasound picked up seven heartbeats.
Carrying that many babies can be dangerous for both the babies and the mother. Lindsey's doctors recommended selective reduction -- terminating some of the embryos to increase the others' chance of survival. Devoutly religious, Lindsey says it was not an option for her and Steve.
"They would be bad doctors if they did not say, 'Medically, this is your best option,'" Lindsey said. "But for our faith, we have a biblical worldview, we believe everything the bible says and we believe that life starts at conception."
Lindsey says her pregnancy progressed as normally as she could hope, but sometime between the 11th and 12th week, one of the fetuses spontaneously reduced. Lindsey and Steve named him Isaac.
A month later, they found out all of the remaining babies were girls.
The Justices had decided to name all seven babies early on, knowing there was a chance they could lose all of them.
"We wanted to name all of them because we believed all of them were a life and that we were going to see them in heaven no matter what," Lindsey said.
It was Steve who said it was important for the names to collectively mean something significant. They decided on "messiah" and named the girls Mercy, Evelyn, Shiloh, Sage, Aspen and Honor.
Lindsey needed to carry the fetuses to at least 24 weeks for them to be viable. They hoped to make it to 32 weeks. But early in the morning of Sept. 23, at just 21 weeks, Lindsey's water broke. The first baby, Mercy was born at 10 a.m. She lived for about an hour. Despite their prayers that her contractions would stop, Lindsey delivered the remaining babies later that evening. By that night, they were all gone.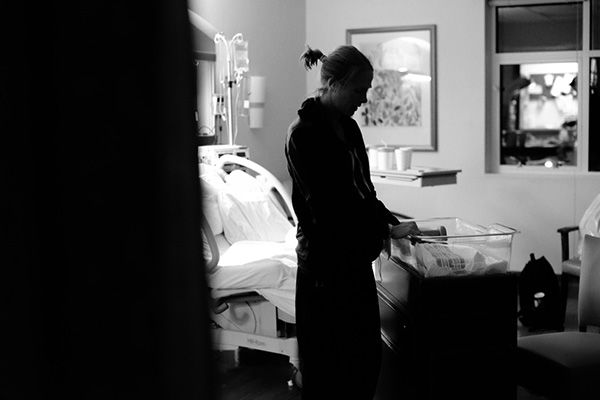 Steve and Lindsey wrapped each baby in a blanket knit by a member of their church. They spent the day and night with the girls, praying, singing and taking photos.
Lindsey says explaining what happened to their daughters Hannah and Hope was one of the hardest parts of losing the babies.
Four-year-old Hannah understood right away, but 2-year-old Hope still asks where Lindsey's belly went and where the babies are.
"We continue to tell our sweet girls that they will always be the big sisters of seven siblings," Lindsey said.
Although the Justices initially kept Lindsey's pregnancy within their family and community, they eventually decided to share their experience.
"Once the babies came and left...we knew at that point we were supposed to share the story," Lindsey said. "Our main purpose in sharing it is to show that there can be hope amidst great suffering and sorrow."
Last weekend, the Justices had a celebration of life service to memorialize the babies. Lindsey is turning 30 next month and the family is taking a vacation to Colorado, where they plan to spread the babies' ashes.
But Lindsey emphasizes that even though there wasn't a happy ending, this was not a tragedy for her and her family.
"This story is a happy story for me," Lindsey said. "I can't fake being OK right now, that would be impossible, but we are OK. We do have hope and we do have peace and we do have joy. We do have sorrow too, and that's OK."
Lindsey maintains a blog about her family and faith. You can read more about her experience there. (Password: HisGlory)
Photos and blog (with password) used with permission.