DURHAM (WTVD) --
A Durham man with ALS - also known as Lou Gehrig's disease - is tired of hoping for a cure. Now he's demanding one and he wants former ABC11 anchor Larry Stogner to join him.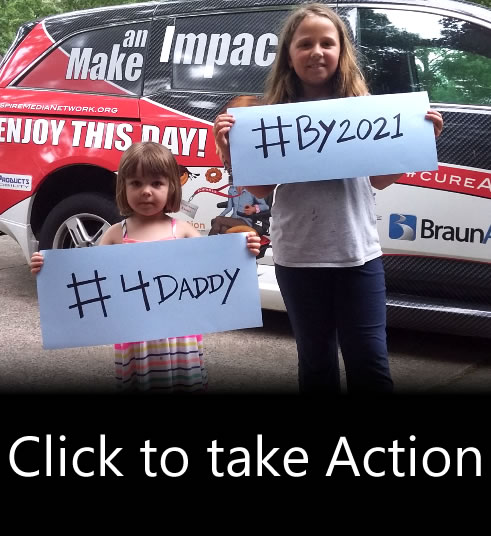 A couple of months ago, you may remember
our introducing you to Chris Rosati
. Some people call him the Krispy Kreme guy, who, after his ALS diagnosis in 2010, became a dream maker of sorts.
His first dream made national news. It was a plot to steal a Krispy Kreme truck and hand out hundreds of free doughnuts all over Durham just to make people smile (he didn't actually steal the truck. Krispy Kreme got wind of the plan and donated a bus full of doughnuts to make it happen.)
Rosati also speaks at area schools encouraging kids to commit random acts of kindness.
But his latest mission is taking a very different tone. It's in the form of a video message sent directly to the CEO of the
ALS Association
.
Click to watch
Rosati is forming what he calls a "Believe Team" of ALS patients, doctors, and researchers to put pressure on the ALS Association and the "powers that be" to commit to that deadline to finding a cure in 2021. Our Larry Stogner, just diagnosed with ALS this year, is the first person Rosati has enlisted to be on that dream team, and Larry has accepted.
"Well, Chris is the man," said Stogner with a smile. "I dare say there is no one who has done more to further the cause of ALS awareness than Chris Rosati."
Stogner, who recently visited lawmakers in Washington DC asking for more funding and research, understands Rosati's passion.
"He calls what he's doing audacity and it is. He is trying to push ALS funding and research from the back burner to the front burner," said Stogner
Stogner said getting Congress to act may be difficult.
"It's really in the numbers. The disease is so rare," Stogner reflected. "3.9 people out of 100,000 are diagnosed. If the numbers were bigger, we would get more attention of Congress and the nation. That's the burden we carry."
We contacted ALS Association CEO Barbara Newhouse's office in Washington D.C. She told us she has seen Rosati's video and is planning to travel to Durham to his home to meet with him in the coming days. We will keep you updated.
If you're wondering how you can help, Chris Rosati is asking that people help spread the word about the 2021 deadline.
Click here to see how
.
And to read more about Rosati's challenge,
click here
.
Report a Typo