RALEIGH (WTVD) --
Just one month ago Sarah Callahan's world was turned upside down. Her daughter, Sadie, was born with Down syndrome, a genetic condition that affects nearly 1 in 700 babies born in the United States each year.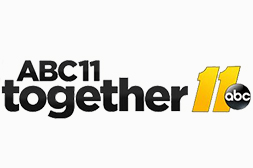 "We found out in the hospital about 20 minutes after Sadie was born, and it was quite a shock to us," said Callahan. "The way it was delivered was just overwhelming."
It's how new parent Jenna White felt after abruptly receiving the news about her son, James.
"They told me over the phone, and I was at work," she said.
The Triangle Down Syndrome Network is working to put families at ease.
The group packed welcome bags on World Down Syndrome Day Monday with all the newborn necessities including information on how to connect with others who have been in their shoes.
"It makes such an impression how you hear that you have a child with Down syndrome or that you're going to have a child with Down syndrome, and if someone starts out with I'm sorry rather than congratulations," said TDSN interim director Kari Alberque. "This is something to celebrate. For some parents it may be hard to see in the moment."
"It made us feel a lot better about what was to come because you get really scared and you don't know," said White.
TDSN eventually hopes to distribute the bags in hospitals around the Triangle.
If you are a new parent to a child with Down syndrome and want to learn more click here:
www.triangledownsyndrome.org
Governor McCrory proclaimed March 21 "Down Syndrome Awareness Day" in North Carolina. He and his wife will light the Executive Mansion blue Monday night in observance of World Down Syndrome Day.
"Individuals with Down syndrome help make North Carolina a great place to live by sharing their gifts and talents and strengthening our diverse community," Governor McCrory said. "Ann and I are honored to light the Executive Mansion tonight to celebrate these individuals and raise awareness for Down syndrome."
Report a Typo