RALEIGH (WTVD) --
A man accused of killing a woman and her 2-year-old daughter posted pictures of them on the floor to his Facebook page along with a photo of him lounging in a chair on a deck.
There is no sign of trauma, and it's not clear when the photos were taken.
The images were captioned: "Look what God did 2 me. A beautiful family all gone."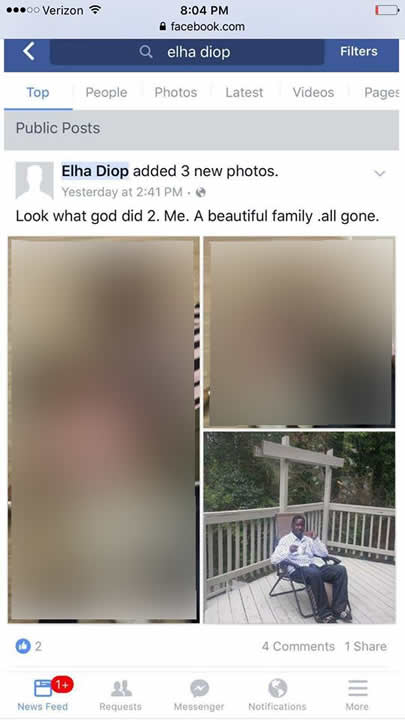 The disturbing post was seen by a relative in Senegal, Africa, who contacted authorities April 5.
Raleigh police were sent to check on the family's welfare and discovered the bodies of 40-year-old Aminata Drame and 2-year-old Fatim Diop inside a home in the 5900 block of Farm Gate Road.
Elhadji Diop, 53, was taken to WakeMed. Police said he had taken toxic substances and cut himself in an apparent suicide attempt.
Diop, the husband of Drame and the father of Fatim, will be formally charged with two counts of murder when he's released from the hospital.
Report a Typo