HIGH POINT, NC (WTVD) --
A year ago, Brandon Holder, a High Point University student, traveled to Haiti on a spring break trip in hopes of serving villages that are struggling to rebuild after the 2010 earthquakes. Little did he know the trip would be life-changing.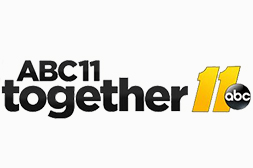 "I saw a lot of the kids fighting over who got to drink the dirty, hand-washed water, just because they were thirsty," he said. Holder remembers seeing 6-year-old children walk miles carrying giant buckets of water back home, just so they could have enough to drink. In many cases, the children would have to miss school in order to get the task done.
CLICK HERE TO LEARN MORE ABOUT WATER THE WORLD
"That really kind of sat heavy with me," he said. "I came home and I really wanted to do something."
Holder immediately started praying for a solution. And then, something miraculous happened. "One morning in July, I woke up with the Bible verse, Isaiah 12:3 on my mind," he explained. "With joy you will draw water from the wells of salvation." He says it gave him purpose.
After spending months developing prototypes with his parents, he started Water The World, a for-profit international aid organization focused on providing mobile, solar-powered water systems to developing nations. The Bible verse, is now his tagline.
Holder developed two award-winning systems. The first an agricultural pump, powered by the sun, which can produce up to six gallons of water per minute. The other, a filter for drinking water, which removes 99.9 percent of bacteria and viruses.
His work has won multiple awards including the High Point University Elevator Pitch Competition, the High Point University Business Plan Competition, and a Pagon Grant for young entrepreneurs. The awards have helped fund new pumps currently in use in Haiti.
In just 9 months, his dream has become a budding global business.
"Our main goal is to spread throughout Haiti and the rest of the Caribbean and then move into Sub-Saharan Africa and give water there as well," Holder explained.
Three North Carolina churches have helped to spread the fountain of hope, by purchasing pumps for mission trips overseas. Holder hopes the impact will continue to expand.
He is set to graduate from High Point University on May 7, with a degree in business administration. Just one month later, Holder will begin graduate school, all while running and hopefully expanding his business.
"In the next couple of years we are looking at maybe merging with another international aid organization that has the same goal as we do that will better allocate our resources and make a bigger impact," he said.
Until then, he needs your help. To donate money, visit Water The World's
website
or
Facebook
page. There, you can learn more about the company and donate money toward new pumps, or inquire about purchasing one for a needy cause.