FAYETTEVILLE (WTVD) --
In Cumberland County, it's called veterans court, and it's giving local heroes a second chance.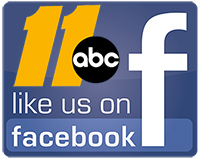 Troubled veterans are finding hope in a non-traditional criminal-court system.
Last week, ABC11 told you about
District Court Judge Lou Olivera spending a day and night in jail with Joe Serna, a retired Special Forces soldier who had violated his parole.
The soldier and judge spent their time behind bars, talking. In the end, both the judge and the former soldier said the cell time helped them better understand each other's responsibilities.
Which is exactly what veterans court is all about.
Tuesday was a big day for the veterans court and for Garrette Vann, who graduated Tuesday from the alternative probation program.
It's designed to help vets get treatment for substance abuse, PTSD, and other issues that got them in trouble with the law.
Vann had to appear before Olivera, a veteran himself, every two weeks and affirm that he was keeping his medical appointments -- and staying out of trouble.
Vann called the program life-changing for him.
Vann is the first of about 12 veterans in the program to graduate.
Report a Typo