FAYETTEVILLE (WTVD) --
A wave of nuisance crimes is happening in downtown Fayetteville, and merchants want to know what police are going to do about it.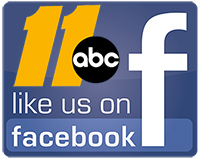 It's not violent crime, but people harassing customers, climbing across building roofs, and urinating in public.
The latest example came Wednesday when a business owner chased a robbery suspect on Hay Street, then down Donaldson Street for several blocks, where the thief managed to evade her and police.
Winded and wearing her apron, Rhonda Yocum chased that thief through downtown Fayetteville on Wednesday morning, not sure what she would do if she caught him.
"Tackle him. Tackle him, and hopefully hold him until police came," Yocum said.
She says the thief was spotted by the Rude Awakening coffee shop's surveillance camera just before he took off with a wad of bills from a tips jar. Police have not identified him.
But several other merchants say he's a familiar face in downtown, and say he and others are pan-handling, harassing motorists, trespassing and committing other small crimes, that are starting to hurt business.
"I have people sitting outside. They see this," Yocum said. "This is something they see. If they have children, they are not going to want to come back to downtown again, and we don't want that to happen."
Neither do police, who say officers frequently patrol the downtown area.
"They come in spurts, nuisance crimes. The bike officers are directly assigned to me," said Lt. Douglas Nicolosi of the Fayetteville Police Department. "They do work Monday through Friday, so that's the sole mission, to work downtown. Plus all the other workers that come and go from the police department on a daily basis, as well as officers assigned to the sector."
Besides extra manpower, the city installed police surveillance cameras downtown to help keep an eye out for crime. And people can drop money in downtown donation boxes that help homeless organizations. While merchants say the nuisance crimes are getting worse, police say downtown is safe.
"I feel it's safe based on officers' presence," Nicolosi said. "I don't see any reason to be alarmed to come to downtown."
Merchants say they are also frustrated by delays with getting the offenders' cases heard in court.
And if presence is a deterrent, merchants may have their own answer. They are co-sponsoring a program that would enlist college students interested in criminal justice to patrol downtown streets in squads of cadets. They won't have weapons or arrest authority, but they will have police radio to call for help.
They hope to begin that program in the fall.
Report a Typo