HOLLY SPRINGS (WTVD) --
Davis Teitelbaum has a secret. He's always wanted to run, but he can't. Davis can't even walk without some help, but Davis can fly.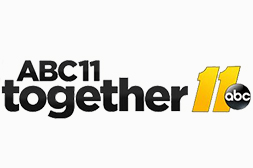 His mom says it all started the first time they put him in a running chair.
RELATED: #TEAMDAVIS RUNNING CHAIR
"What child doesn't dream of running?" said Kate Teitelbaum. "When they pushed him the first time, he literally squealed with delight, because he was actually flying."
When we caught up with Davis, he was "flying" with some help from his friends at the Holly Springs Run Club. They meet weekly for a run, and Davis is always right there with them. They literally argue over who gets to push him that week because it's so much fun.
Heather Prince was the first co-pilot Davis had.
"The entire time you are running, he's singing and dancing; he's waving at people. It's like going on a parade every single run," she explained.
Davis struggles with several congenital conditions. But when he's in the chair, on the road, it all fades away. Mark Campbell, from the HS Run Club, says he's a different kid out on the road.
"He's a much happier kid when the wind is blowing in his face", Mark said.
The family has been using a borrowed chair from a charity called
Ainsley's Angels
. while trying to save to buy a chair for Davis. Each chair costs around $4,600 and is specially made to cradle his body Sometimes, those bumps can get painful if he isn't situated correctly.
Late Friday, Davis' family crossed the finished line in fundraising to get his chair, but they want to pay it forward. They are hoping to buy two more chairs for other folks. They want someone confined to a wheelchair, regardless of age, to be able to fly as well. If you'd like to help, you can visit Davis' page
here
.
Report a Typo