DURHAM (WTVD) --
Two American immigrant families are realizing the American dream of home ownership thanks to Habitat for Humanity and two generous homebuilders.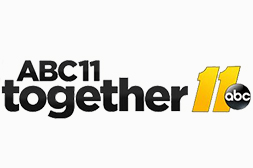 Click here to learn more about Habitat for Humanity of Durham.
Volunteers are taking part in Habitat's annual homebuilder's blitz and hope to get the homes built in just seven days.
"Thanks to Garman Homes and Durham Building Company, this is the third year in a row that we've built two houses, one house the first year, two houses the last couple years in six-and-a-half days. It's really remarkable," said Blake Strayhorn with Habitat for Humanity of Durham.
One of the recipients is Hannah Adegboye who came here from Nigeria 15 years ago. The single mom has become a U.S. citizen.
"They say that you can become whatever you want to become in America. So when I have the, when I have this, I have the dream of having my own home. And the dream is coming true now," she said.
Across the nation habitat's builders blitz week will provide about 250 families with affordable housing.
Report a Typo