RALEIGH (WTVD) --
One of Raleigh's oldest streets is getting a makeover. Raleigh's Mayor Nancy McFarlane broke ground Thursday morning on the second phase of the Hillsborough Street Renewal.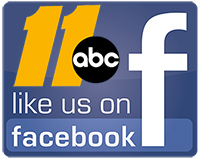 "Well it's going to look pretty when it's done," said Irv Coats, owner of The Reader's Corner on Hillsborough and Rosemary streets.
Coats has owned the used-books-and-records store since 1980. He said he always wanted to own a book store, so when he got out of the service, that's just what he did.
Now after more than three decades, his intersection is changing and getting a roundabout. For Coats, this change is bittersweet.
"It's getting rid of that dangerous intersection which I'm very happy to see that gone because that's a monstrous intersection," Coats said. "People come on both sides and think they have the right of way and they just storm right through and hit each other, happens all the time. One time one gets a ticket another time the other gets the ticket so police don't even know which way it goes."
The downside of that particular roundabout is that it will eat into his parking.
"They're taking half our parking lot, which is going to choke us forever, so I'm unhappy about that," Coats said. "It's just going to chew right into the parking lot and then they're going to take the other side because they want to widen this street to make room for, they say, the fire trucks to make the turn around the road so we're getting hit both ways, which I didn't expect."
Also losing parking spots is another staple along Hillsborough Street, the East Village Grill that's been at the corner of Hillsborough and Dixie Trail since 1992.
"We have been told we're going to lose six or seven parking spaces," said manager Todd Chriscoe.
Chriscoe said most of their patrons walk anyway, and he said the city has promised to make up for the lost parking spots.
"We're not really sure what that means, but I think we'll be OK," Chriscoe said.
Overall, both agree it is time for a change.
"When I moved here in the mid-50's it looked just like it did until recently. I kept saying all these years, nothing's changed, now it's happened all at once, so it's time for it," Coats said.
They say their businesses have stood the test of time and survived the first phase of the revitalization project.
"Years ago, I want to say it was 2008 when the construction happened at that end of the street it really did kind of hurt us but now the street is more established and I think this will help," Chriscoe said. "People up and down the street are scared but like I said we've been here for a long time, a lot of the businesses haven't been here for the ebb and flow of Hillsborough Street."
"I roll with the punches," Coats said. "We'll survive."
RELATED: BUSINESS OWNERS UPSET OVER HILLSBOROUGH STREET PLANS
Report a Typo