RALEIGH (WTVD) --
Hit-or-miss showers and thunderstorms will dot the Triangle on Saturday and Sunday, with highs in the upper 80s and lows around 70.
Click here for First Alert Doppler XP
Click here to download the ABC11 First Alert Weather app.
The heat, and humidity, is fairly typical for the start of July and the warm, humid atmosphere will combine with daytime heating to bring the spotty activity. Most of the activity will occur in the afternoons and evenings. We are under a marginal risk for severe weather today.
WATCH: Angelica Alvarez takes a look at the travel situation from the 11 p.m. newscast
The threat for downpours and thunderstorms will increase heading into Sunday and Monday, which could lead to interruptions for the outdoor activity this holiday weekend.
On July 4, odds favor thunderstorm activity quickly diminishing during the late evening hours for any firework displays, but we'll have to keep a close eye on the timing of those storms.
If you are outdoors this holiday weekend, keep an eye and ear to the sky. If you hear thunder or see lightning in the distance, take shelter as soon as possible.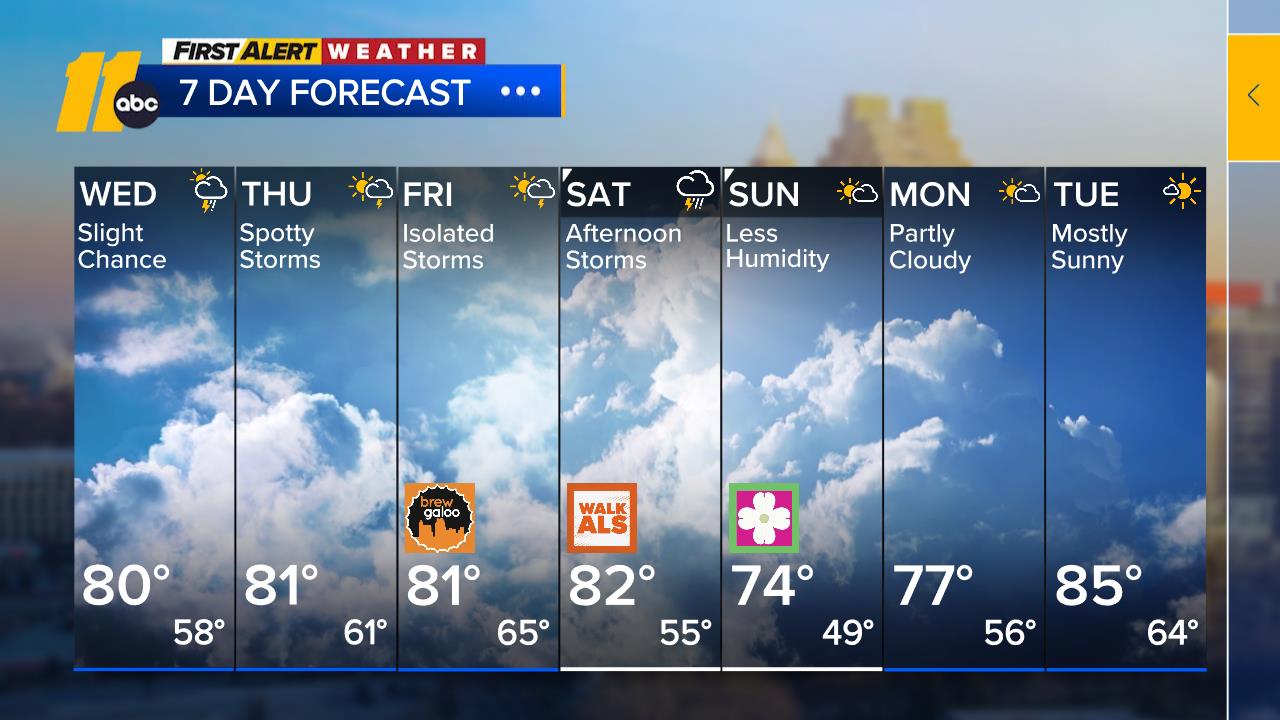 HOLIDAY TRAFFIC COULD BE IN THE FORECAST
The holiday travel rush started early Friday as people headed out of town for the extended Fourth of July weekend.
As of Friday afternoon, traffic on I-40 was already congested with holiday travelers. The roads are expected to be busy this weekend with the lower gas prices.
Raleigh Durham International Airport was crowed early Friday morning as travelers clambered to get their vacations started.
Transportation officials say motorists traveling between Virginia and North Carolina on Interstate 85 can expect heavy delays because of construction near the state border.
A statement from the N.C. Department of Transportation says there are two sections of the interstate where four lanes of traffic are reduced to two because of work to reconstruct the northbound lanes. Traffic has been shifted onto the southbound side of I-85 in those two locations, creating a two-lane, two-way pattern.
One shift is between mile markers 213.5 and 218.5, about 20 miles from the state line. The other is just a few miles south of the state line, between mile markers 226 and 230.
Motorists are encouraged to check the Travel Services section of the
NCDOT
website.
Report a Typo