RALEIGH (WTVD) --
An autopsy report released to ABC11 Thursday reveals new details into the bizarre murder of a Raleigh mother and her 2-year-old daughter. According to the Medical Examiner, the child's death may not have been intentional.
On April 5, Raleigh police discovered the bodies of 40-year-old Aminata Drame and 2-year-old Fatim Diop inside a home in the 5900 block of Farm Gate Road. Drame's husband, who is also Fatim Diop's father, is currently charged with murdering both of them.
Family members reported the crime when they said Elhadji Seydou Diop posted pictures of the deceased victims on Facebook.
READ MORE: Raleigh man accused of killing family posted pictures on Facebook
The images were captioned: "Look what God did 2 me. A beautiful family all gone."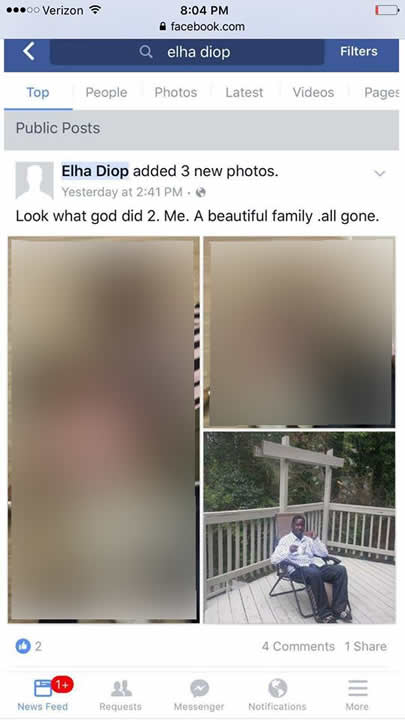 Officers also reported finding Diop, 53, at the townhouse on Farmgate Road. Officers said Diop had cut himself and ingested a toxic substance.
READ MORE: Police say man took toxic substance after Raleigh killings
Although the autopsy for Diop's wife reports Drame was strangled, the autopsy for Fatim Diop is not as clear.
The autopsy states Diop and his wife were reportedly fighting and landed on top of the child, who may have suffocated as a result.
The autopsy concludes, "...the cause of death is listed as asphyxia occurring during altercation between adults."
It is not yet clear how the Medical Examiner's conclusion will shape Diop's defense strategy. His attorney could potentially argue that, based on the autopsy, his daughter's death wasn't intentional and therefore should not be classified as a first-degree murder.
Report a Typo