FAYETTEVILLE (WTVD) --
Thousands of children walk to school every day. But in one Fayetteville neighborhood, a path that children have been using for years is now blocked by a fence -- forcing kids to walk along a busy road.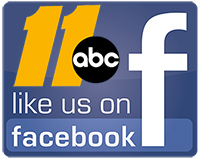 "What gives them the right to block and keep these kids from being safe?" asked Gregory Johnson, an area resident and parent.
Johnson and other residents say the sidewalk has been a school shortcut since the '70s. That's when they say the property owner built it for neighborhood children. Now they say a new owner has made it off limits.
"I would like to see it opened back up because it's a safety concern," said Bailey Person, a concerned parent. "The last thing I want to do is walk my son home and see some child hit by a car."
Person says with no shortcut, neighborhood kids will have to walk along busy Bonanza Drive. Latasha Wilson says she won't let her daughter do that.
"I will have to take her up there," Wilson said. "I don't want her walking on Bonanza Drive to get to school."
Some long residents say traffic congestion may be part of the problem. They say cars often clogged the cul-de-sac, as parents circle through to drop off and pick up their children.
"The mailman even came earlier to try and beat the traffic, so he doesn't get caught up in traffic," resident Claudia Johnson said.
Other residents say that is a small price to pay for students' safety.
So who owns the sidewalk?
On Tuesday afternoon, a city spokesman told ABC11 that according to tax records, the developer who built the neighborhood may still own the sidewalk.
The definitive answer to that question may help get this shortcut reopened.
ALSO SEE: LEAD FOUND AT CUMBERLAND COUNTY ELEMENTARY SCHOOL
Report a Typo