RALEIGH, North Carolina (WTVD) --
A group of Raleigh middle schoolers at Hilburn Academy are trying to make their idea for a Wake County school bus tracking app a reality.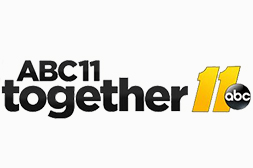 A Charlotte tech company saw the original ABC11 story on the students and offered to help them make their app.
The children are working with MapAnything, the company that agreed to help them build their app, via video conference calling.
"Never in my professional life have I worked with a team that's quite as qualified for being so young," Noah Parrish with MapAnything said.
The students met with the transportation director for the Wake County Public School System earlier with week to discuss the project and have come up with their next step in development.
RALEIGH STUDENTS NEED YOUR VOTE TO BUILD BUS TRACKING APP
They aim to create a pilot app to track multiple buses and dozens of stops for Hilburn Academy -- an app they hope to learn from and then expand to cover all Wake County public school buses.
It's something their teacher, Michelle Bass, hopes will further develop her students as well.
"At this age they're starting to think about what they could potentially do for college, which would then turn into what careers they could have," Bass said, "So if they have this experience with this mentor, like MapAnything is providing for us, they can see that the future is possible for them."
Her students said they're grateful for the opportunity.
"I'm really excited. I don't know, I've never been a part of something this big and I'm just happy for the learning experience," student Anna Socha said.
Want more ABC11 Together stories? Get the ABC11 News App
"When we grow up, it's going to go on our application for college," Ben Klenke said.
"I think this is really cool because I'm not really into science-y stuff like that, but now that I've gotten really into the app and technology and everything, I think that I could potentially do that as a job," Amaya Montague said.
"I felt like we're just kids and we can take something so far," Aneri Shah said.
Report a Typo