DURHAM, North Carolina (WTVD) --
When Roy Jimerson saw a bunch of paper flying around Coastal Federal Credit Union on University Drive and Shannon Road, he stopped.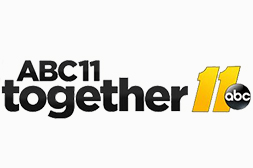 "I saw that it was money, so I turned around and blocked traffic, picked it up; another citizen stopped and helped me gather it," Jimerson said.
When Jimerson isn't busy working as a Durham firefighter, he's laying tile as an independent contractor. He said he knows how hard it is to make a dollar and that's exactly why he wanted to return it - almost $1,000 in cash.
"Drawing that kind of money out, you had plans for that money, and I didn't want him to be short changed," he said.
Want more ABC11 Together stories? Get the ABC11 News App
The money belonged to 42 year-old Keyon Waddell who does facility work for Duke University Hospital. Jimerson searched his name and found info for his mother - an administrative assistant at the Durham Police Department.
Waddell's mother, Edna Streeter, said the money the firefighter returned was very important to Waddell as it was literally every single dollar he had in the bank.
"He was in the process of moving his money to a different bank, so he took all the money with him," Streeter said.
Waddell didn't notice it was gone. Jimerson said when he saw a name on the bank slip, he didn't think twice.
"It hit me, 'you got to find this gentleman and give him his money back,' " Jimerson said.
"He wanted to see the look on his face when he returned the money," Streeter said of Jimerson. "And we all were just so excited that there are still good people here in Durham, North Carolina."
Report a Typo