RALEIGH, North Carolina (WTVD) --
Organizers of the Interfaith Food Drive at the Islamic Center of Raleigh appreciated the community's response on Saturday. From 10 a.m. until 2 p.m., volunteers stayed busy collecting and accepting donations of non-perishable food items for the Food Bank of Central and Eastern North Carolina.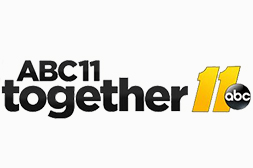 It's a level of commitment familiar to those who knew the three Chapel Hill shooting victims slain on February 10, 2015. Deah Barakat, Yusor Abu-Salha and Razan Abu-Salha were known for their work assisting people who struggle.
READ MORE HERE
That's why Carol Dukes spent hours at the Islamic Center, helping with the drive.
"I am an ESL teacher at Broughton High School. We have a large Muslim community, a lot of students there. And so, we knew the students who were murdered," Dukes explained.
News of the shooting deaths made international headlines and motivated action by people many miles away from North Carolina. Shadi Sadi of the Light House project said donations received before the Saturday event helped them exceed last year's goal of 26,000 meals for local people in need. He told us the Muslim community in Dallas was very generous.
"And they donated $1,800 two nights ago to this cause," he said. "So right now we've shattered our first goal."
They did it with help from several departments at NC State, student organizations, and people like Barry Schwartz. He's the executive director of Jewish Family Services and says the unity shown at the food drive sends an important message.
"It's been a fairly charged season so far, politically," he said, "but this is not about politics. This is only about people helping other people, irrespective of backgrounds, irrespective of faith communities. And that's what we're here to do."
Among the army of volunteers were people from several local churches and the LGBT Center of Raleigh. Many people also contributed online, and that's where you can go if you want to help.
"Follow us on Facebook," said Sadi. "We're Project Light House. We continue to do stuff throughout the community. Razan was also spearheading a group called Triangle Muslim Aid. She used to give to the homeless in downtown Raleigh."
VISIT THE FACEBOOK PAGE HERE
Now, all the food collected on Saturday serves as reminders of her work, and the others who wanted to help others who need it.
"It's a wonderful thing. I'm really proud of Raleigh," said Dukes. "It's an awesome city!"
"Really looking to show unity, especially for three such amazing individuals and for their legacy," Schwartz added.
Sadi smiled as car after car arrived with donations.
"They clearly wanted to send a message and we've gotten it, loud and clear," he said.
Report a Typo
Report a Typo