RALEIGH, North Carolina (WTVD) --
The City of Raleigh is making a desperate plea for lifeguard applicants.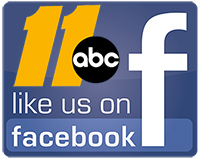 It is already facing a shortage of 50 lifeguards with spring break drawing in a crowd, but they'll need at least 160 more before the summer pools open.
Little spring breakers hoped to hit the pool Wednesday at Buffaloe Road Aquatic Center, but wound up waiting and waiting. Some parents drove more than half an hour to take their children to the pool, only to find a line to get inside.
"We had to wait because they could only use a certain amount of people per lifeguard ratio," Kelee Harding, a parent, said.
"We've been to three pools today and they've all been so busy," said Brandi Moser, another parent. "Just trying to make spring break nice for the kids."
Stay on top of breaking news stories with the ABC11 News App
Four year-round pools are open right now - and are packed. But five more pools are set to open for summer this June.
The city needs as many applicants as it can get because applicants have just two weeks to pass the swim test, before they can go through training -- and the swim test is the hard part.
Applicants have to prove they can swim 300 yards in freestyle and breast stroke, retrieve a 10-pound brick from bottom of the pool and swim with it for 10 yards, and tread water using just legs for two minutes.
But what happens if there aren't enough candidates before the June summer opening?
"If we see the need to cut back, we will, but basically we will try to augment life guards in the locations where we need," Terri Stroupe, Aquatics Director for the City of Raleigh Parks and Recreation said.
That might mean more lines, but sacrificing safety is not a price parents are willing to pay.
"You can have incidents and the lifeguards are just an extra set of eyes," Kelli Janice, a parent, said. "The parents should be watching their kids anyways but the lifeguards are just an extra set of eyes."
Report a Typo