MEBANE, North Carolina (WTVD) --
Mebane Police continue to search for a man who robbed the State Employee's Credit Union at 1900 S. Fifth St. on Tuesday.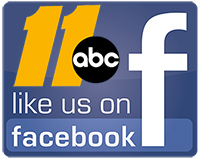 The robbery happened shortly after 10 a.m.
Police said the robber entered the bank and handed the teller a plastic bag and demanded money. He was given an undetermined amount of money, and then he left out the front door and ran through the parking lot toward Lowes Boulevard.
Stay on top of breaking news stories with the ABC11 News App
The suspect was described as a black man with a thin build, approximately 5-foot-7. He was wearing a blue baseball cap, sunglasses, a white long-sleeved shirt with stripes, and jeans.
The suspect possibly left the area in a gold-colored 4-door BMW sedan with a sunroof.
No one was injured during the robbery, and no weapon was displayed.
A surveillance camera captured footage showing the suspect run across the parking lot.
The case remains under investigation.
Anyone having information regarding this crime is asked to contact the Mebane Police Department at (919) 563-9031.
Report a Typo