WAKE FOREST, North Carolina (WTVD) --
Hunter Pietrowski was smiling ear to ear because Thursday is his last chemotherapy session and to top it off, he just received a video of encouragement from his favorite NFL player.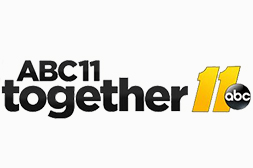 The 13-year-old has been fighting cancer since being diagnosed last summer.
ABC11
first shared Hunter's story back
in October when Medicaid denied his stem cell therapy. His mother then took to social media on a video
pleading for a reversal and it worked.
"It means the world to us that he will finally be done with all he's had to go through," his father, Adam Pietrowski, said.
When asked what he's looking forward to the most after his last chemotherapy session, Hunter said it's "being able to be a normal kid, and not stuck in the hospital"
"I just want him to get back to being that 13-year-old that's running around the house, creating a ruckus," his mother, Tiffany Pietrowski, added.
To help Hunter on his recovery, he received a surprise video Monday from Patriots tight end Rob Gronkowski.
"He's my favorite player," Hunter said.
"Just hearing about your story Hunter, so I just want to say congratulations on your last chemo session," Gronkowski said in the video.
A friend of the Pietrowski family started a social media campaign to get the pro player to send Hunter a message. Within 24 hours, it worked, Tiffany said.
So Hunter made him a video to thank him.
His family said all of this wouldn't be possible without everyone's support to get Hunter's stem cell treatment.
"Grateful obviously that he's here and that we got it reversed, and that the news, and everybody, again was supportive of Hunter and his journey," Tiffany said.
"Makes you regain your faith in humanity to see that many people with a big heart," Adam added.
"Thank you, everybody," Hunter said.
Report a Typo