RALEIGH (WTVD) --
A Wake County mom and son were forced to wait months for a handicap accessible vehicle.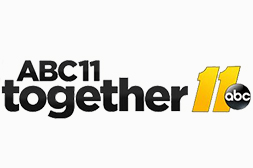 After years of researching and saving, Lori Jajczyk finally found the handicap accessible vehicle she thought would work for her family. Her son Aaron suffers from muscular dystrophy and getting around is becoming more and more difficult.
"Harder for him to slide in and out of a car, and it is getting harder and harder for me to lift up his scooter," Lori said.
Lori learned about All Terrain Conversions, also known as ATC at a Raleigh business. A sales rep for ATC told her why the vehicle would work for them. Lori says the sales rep said, "We have a new line of SUV's that we can do."
She said she was shown a video of how ATC could modify a Chevy Traverse to make it handicap accessible. Lori says from the sales pitch, she thought it would be the perfect fit. She bought a brand new Chevy Traverse and signed a contract with ATC. The modification cost $19,999 and she put $4,999 down for the modification to get started.
In July, Lori drove the Traverse all the way to ATC headquarters in Indiana. She says she was told it would take six to eight weeks to be done. She says in August, she got a call from ATC about the progress.
"August 17 we will get the fuel tanks, and it will take a week to two tops after that and then it would be ready for pick up," Lori says an ATC rep told her.
With being told the work was almost done, the state released its funding for the modification. The state Cap-C program paid the remaining $15,000 owed on the modification.
But despite being paid in full, the modifications on the SUV still weren't done. Lori was frustrated.
"I want to see a picture of my vehicle," she told them. "You say you are waiting on fuel tanks, but you say you've done stuff. I want to see what you've done."
Lori says a rep with ATC sent her pictures of other vehicles that were being modified, not her vehicle.
Lori asked a police officer in Indiana to go to ATC headquarters to make sure her vehicle was still there. Lori says she was sent several pictures from the police officer.
She says, "It was sitting in the same spot I parked it outside. Nothing was done to it. From July to Oct. 12, it sat, and they kept saying it was 90 percent done."
Lori was fed up. The owner of ATC emailed Lori and told her he would give her $2,000 back if she would let him move forward with the modification. If she didn't want that option, the owner also offered to refund Lori the full amount paid, plus buy her Traverse from her.
Lori was willing to give ATC a second chance as she claims the owner told her the modifications would be done in two to three weeks. When that didn't happen, Lori got in touch with me.
"Very frustrated because you trust somebody, I totally trusted them. They have my almost $28,000 vehicle plus $20,000, and I have no car," Lori said.
I reached out to the president of ATC, Steve Kitchin. He admitted to the delays and said they were caused by several issues with parts and changes that needed to be made to the modification process.
He added, "Although this situation has been frustrating, I felt we have done everything possible to get this project complete. We have offered to buy back vehicle and have conceded discounts. She has always said she wants to continue waiting on her Traverse. My desire is to ultimately make her happy with one of the best conversions on the road. I think that will happen next week."
Despite the delays, Lori still wanted to wait for ATC to finish the modification.
"This was for my son," Lori said. "They keep saying I know how bad you want this; it's not a want -- I need this."
It did take a few more delays, but finally Aaron and Lori finally got their handicap accessible Traverse.
"He really likes it because he can drive right in," Lori said.
Lori says it's such a huge relief having the vehicle, one Aaron feels comfortable in. Despite waiting more than six months for ATC to complete the modification, Lori is happy with it.
"Very happy it's over. I'm very happy with the vehicle," Lori said.
The President of ATC adds he understands Lori's frustration, and because of the long delay, he did refund Lori $5,000 of the $20,000 paid to get the vehicle modified.
Report a Typo