CARY, N.C. (WTVD) -- A game of tennis turned into much more than serves and volleys at Prestonwood Country Club in Cary. Nearly 100 people took over the tennis courts and started dancing for a cause.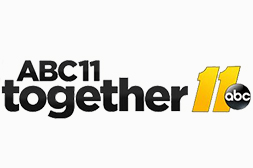 If you'd like to donate to Team Beat It, click here
It was a typical Saturday on the Prestonwood Country Club tennis courts. Then, a Michael Jackson beat started playing, and the clay courts became a dance floor for a flash mob.
"Out of nowhere, all these people started dancing and everybody else looks at them, and looks what's going on," said organizer Margaret Struble. "I actually had no idea how many people would show up."
Struble is in a competition of sorts, to become Woman of the Year for the Leukemia and Lymphoma society. It's a friendly competition to encourage people to raise the most money for cancer research.
Struble said she wanted to do more than send an email soliciting donations.
"Instead of raising money for Margaret Struble, Woman of the Year, we're raising money for 'Team Beat It, Beat Leukemia and Lymphoma," she explained.
She and her friends came up with the idea of a flash mob dancing to Michael Jackson's "Beat It."
Almost 100 people packed the court, and danced to "Beat It" in near-perfect unison.
"Hey, we're putting ourselves out there, and if you open up and email from someone asking for a donation, and you see them doing a flash mob, how can you not laugh?" Struble asked. "And, how can you not say 'Hey, these people are trying.'"
Report a Typo