RALEIGH, North Carolina (WTVD) --
According to the Organ Procurement and Transplantation Network, nearly 120,000 folks across the country are on a list, waiting for an organ transplant. One financial aid group says the cost of a transplant could break the bank for the average family.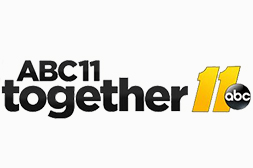 One Raleigh man who knows that struggle firsthand is now breathing clearer, thanks to a new lung and the organization who made his transplant financially possible.
CLICK HERE TO LEARN MORE
For almost his entire life, Eric Hein has struggled with the most basic human need -- breathing.
"I was diagnosed with Cystic Fibrosis at age two." Hein explained.
Cystic Fibrosis (CF) makes every breath a battle.
"We were trained to cup our hands to break up the mucus in his lungs and so forth," said Eric's father, Wesley Hein. "It's kind of like a ketchup bottle."
Cystic Fibrosis isn't a disease of if, but when.
"I knew I was getting there over the past couple of years, on the transplant list. But then, I just hit rock bottom," Eric recalled.
Wesley said prior to his son's transplant, Eric could barely breathe
"He was choking up blood," Wesley explained.
With an average of just under a 40-year life expectancy, most of those who endure the suffocating effects of CF die of lung complications.
It's a fate Eric would have certainly endured had it not been for a lung transplant received in November 2016, and the fundraising support of Children's Organ Transplant Association.
Melanie Barker is the Community Coordinator for COTA for Eric. She explained COTA's mission is to help families with costs associated with organ transplants.
"COTA's mission is to help families who are having transplants in children or older adults so they do not get declined for financial reasons," Barker explained.
According to COTA, the average organ transplant costs around $500,000. Barker says that there are close to twenty families in the Triangle and close to forty families in North Carolina utilizing COTA's services.
"It's very expensive, not just the initial surgery, but the rejection medications and all of the medications that follow," Barker said of organ transplants.
"It's tough to see the bills every month," Eric says.
So far, an estimated $8,000 of the $50,000 target has been raised on Eric's behalf.
FOR MORE INFORMATION, VISIT ERIC'S FUNDRAISING FACEBOOK PAGE
Report a Typo