RICHMOND, Va. (WTVD) -- North Carolina gun owners are none too happy with Tuesday's move by Virginia's attorney general.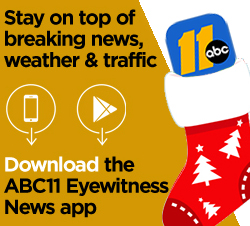 Virginia Attorney General Mark Herring, a Democrat, said concealed handgun permits held by residents of 25 states will no longer be valid in his state. He said the state will revoke its reciprocity agreement with the states because their concealed-weapon laws don't meet Virginia's standards.
But ask gun owners with concealed-carry permits in North Carolina and they'll tell you Tar Heel rules are every bit as stringent as those in Virginia.
"North Carolina permit holders are very well trained," said Marc Erickson, a board member with the gun-rights group Grassroots NC.
Erickson says he teaches classes in gun safety. "So I know how well the students are checked for safety, competence and their knowledge of North Carolina law. When I teach this course, it takes two full days and I spend several hours on the law of self-defense in North Carolina. I don't see how you could be more thorough than that."
Erickson also pointed out that in Virginia, the process starts with an online application.
"What it looks like to me, and I can think of few things as ridiculous as this in a time of terrorism, they're playing politics with all this," he said.
Gun-control advocates see it more as a matter of states' rights.
They're upholding Virginia's state laws," said Kim Yaman, with the pro-gun control group Everytown for Gun Safety. "Can they be held responsible for upholding North Carolina's laws? Should we be held accountable for Virginia's laws? Every state has its own set of laws and should have the opportunity to uphold their laws and not be put in a position where they're upholding the laws of another state."
Yaman largely echoed Herring's statement Tuesday. "Evenly, consistently and fairly enforcing Virginia's concealed handgun permit law, as we are now doing, means that it will be more difficult for potentially dangerous individuals to conceal their handguns here in Virginia and that will make Virginians safer, especially Virginian law enforcement," Herring said.
The move means that Virginians will no longer be able to use their concealed handgun permits in six states that require a mutual reciprocity agreement: Florida, Louisiana, North Dakota, Pennsylvania, South Carolina and Wyoming.
John Whitbeck, chairman of the Virginia Republican Party, said Herring's announcement was further proof that Democrats have "declared war on the Second Amendment."
The top Republican in the GOP-controlled House of Delegates said that Herring is "damaging the integrity of the office he holds."
"Despite promising to take politics out of the attorney general's office, Mark Herring consistently seeks to interpret and apply the law of the Commonwealth through the lens of his own personal, political opinions," House Speaker William Howell said.
States are being notified about the change, which goes into effect Feb. 1, Herring said. The only states that have tough-enough laws to maintain their reciprocity agreement with Virginia are: Michigan, Oklahoma, Texas, Utah and West Virginia, he said.
The states whose permits Virginia will no longer recognize are: Alaska, Arizona, Arkansas, Delaware, Florida, Idaho, Indiana, Kansas, Kentucky, Louisiana, Minnesota, Mississippi, Montana, Nebraska, New Mexico, North Dakota, North Carolina, Ohio, Pennsylvania, South Carolina, South Dakota, Tennessee, Washington, Wisconsin and Wyoming.
Herring made the decision, his office said in a statement, after "months of research and evaluation," including an audit of 30 states whose concealed-handgun permits have been considered valid in Virginia.
All but five of them, he said, grant permits to people who would be barred from carrying concealed weapons in Virginia. He called revoking the agreements a "common-sense step."
Gun-rights advocates denounced the move, saying Herring had no evidence that suspending the reciprocity agreements would reduce crime.
"It looks to me like pure politics," Erickson said. "To get a permit in North Carolina you have to go through stringent training and you have to demonstrate your competence."
"We have a great deal of control of this area," he said, "and the program is very well administered from our Department of Justice. I can't imagine any other state arguing that we aren't doing a good job here."
Report a Typo