RALEIGH (WTVD) --
The weekend storm may have brought snow and ice, but it also brought out a lot of good in Raleigh in the form of donations pouring in to businesses and non-profits all to help the city's homeless.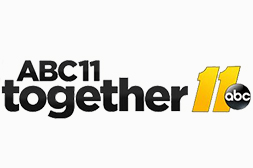 "Friday morning, I felt compelled to write something on my personal Facebook page," explained Shana Overdorf.
Overdorf is the Executive Director of the
Raleigh Wake Partnership to End and Prevent Homelessness
. Her Facebook post started a chain of giving she could have never imagined.
"I'm overwhelmed. I thought my post would be seen as preachy," she said. "People that know me know I'm going to talk about things near and dear to my heart and keeping in mind people outside that don't have the option of coming in and getting warm and having dry socks or the ability to sleep in a safe warm place," she said.
After her post, a friend started a
Crowdrise
campaign raising $5,022 from Friday to Monday morning, and it didn't end there.
Raleigh restaurant owner Zack Medford who owns
Paddy O' Beers
saw the post and used his business accounts to encourage giving in the storm.
"We put a post on Facebook and asked people to bring coats to Paddy O' Beers," he said. "We thought we might get a few coats and help out the shelter-we wound up getting over 100 coats and they're still coming in," he said.
Other businesses followed. Restaurants asked how they could help and donated trays of food for the Sunday afternoon meal at the Outreach Center. And, donations began pouring into the
LGBT Center of Raleigh
after the director created and shared an Amazon wish list for the city's homeless.
"We've received now a thousand hand warmers, 700 Mylar blankets, 30 tents, 40 sleeping bags, and 80 packages of socks and we have 20 packages yet to be open," Overdorf said.
"These are all the thank you's I'll be owing the community," she said.
Overdorf said she believes this is the start of a season of giving for the city's homeless.
Report a Typo