DURHAM (WTVD) -- Dorothy Holloway's new normal is walking with a prosthetic leg.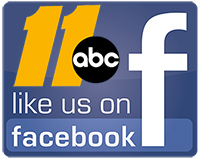 The 72-year-old lost her leg from a drive-by shooting back in February.
"It's a process, but God is with me because I could have been gone," Holloway said.
Holloway said she was watching TV when a spray of bullets went through her home, hitting both her legs.
Before the shooting, Holloway was learning to walk again following a debilitating nerve condition; the shooting puts her back at square one.
"Whoever did it -- they don't realize this could happen to your family," Holloway said. "This is stupid."
READ MORE: 72-YEAR-OLD SHOOTING VICTIM FACES TOUGH ROAD AHEAD
Nearly four months later - no arrests. The Durham County Sheriff's Office said the shooting was not random and deputies are following leads.
"Ms. Holloway's shooting continues to be a top priority for the Sheriff's Office," the department said Friday evening. "The investigation is ongoing, and we continue to follow up on leads. Sheriff Mike Andrews visited Ms. Holloway during her hospital stay and was greatly disturbed by the senseless act of violence that could have claimed her life. We are urging anyone with information about this shooting to come forward so that we can make an arrest."
Holloway's neighborhood is no stranger to violence. Less than a mile away, another unsolved drive-by happened the following month. Bullets struck two people outside this home.
15-year-old David Pounds did not survive.
"If people can be that coldhearted and do this to somebody's baby or to a child. How could they walk this earth with peace?" said Keshon Blue, Pounds' older brother.
READ MORE: POLICE SAY 15-YEAR-OLD KILLED IN DURHAM DOUBLE SHOOTING
Durham Police say they are following new leads - and still maintain the attack was not random.
Pounds' brother disagrees.
"He made foolish mistakes," Blue said. "But never did he (David) ever have beef in the streets where somebody would want to come back and kill him."
Blue said his family is selling the house because of the violence.
Durham Police said there have been 13 shooting deaths this year in the city. Friday, there were two more in the county.
NEW SHOOTINGS: TWO MEN FOUND DEAD WITH GUNSHOTS IN DURHAM
Violent crime is one topic the new police chief, Cerelyn Davis, will address Friday at her swearing-in at Carolina Theater.
She will also tell the audience she will be accessible and involved in the community.
Davis said her goal is to build trust and better relationships between the community and police.
Report a Typo