DURHAM (WTVD) -- What used to be an old sewer treatment plant in Durham is now the Sandy Creek Park enjoyed by many for its beautiful flowers and wildlife, especially our friend and colleague, Larry Stogner.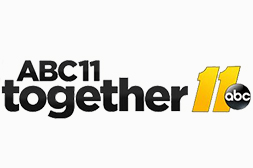 Nearby residents call the park a local gem, and they'd like to see some improvements made.
CLICK HERE TO DONATE
Larry visits every morning with his two dogs on the trail. Now, there's an effort spearheaded by the Durham Parks Foundation to make that trail handicap accessible, and give it a new name: The Larry Stogner Trail.
The Durham Parks Foundation wants to make improvements to the trail, and build new sidewalks to make it wheelchair and walker-friendly. The project will take $60,000, and the foundation hopes to complete the improvements in two phases.
"We wanted to put in a small loop trail that went around the main part of the park that's totally accessible," said John Goebel with the Durham Parks Foundation. "People can come down, even in wheelchairs, make the half-mile loop and see the butterflies."
So far, the foundation has raised $6,180 for the Larry Stogner Trail project.
You can donate here.
Report a Typo