RALEIGH (WTVD) -- Over the last three decades, obesity in American children has tripled. The CDC reports that 17 percent of children in this country are considered obese, and the numbers are even higher in African American and Hispanic communities.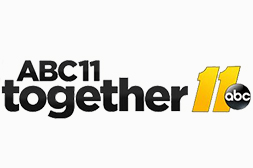 The Junior League is one of many national organizations that has set out to change that. Ten years ago, a national initiative called "Kids in the Kitchen" was created to educate kids and their parents about healthy eating and exercise. Raleigh is one of 200 cities nationwide engaged in
Kids in the Kitchen
.
ABC11 Together is proud to participate in the event put on by the
Junior League of Raleigh
at the
Brentwood Boys and Girls Club
.
More than 100 children attended the event on Wednesday. Kids took part in hands-on activities, where they learned to make healthy meals and snacks. All of the snacks follow the USDA "My Plate" curriculum.
There were also activity stations where the participants were able learn games and activities that make exercise fun.
Boys and Girls Club director Pepe Caudillo says events like this are important for at risk youth.
"The mission of the Boys and Girls Club is to enable kids especially those who need it most to become the best citizens possible," Caudillo said. "There's no way you can be a good citizen if you don't know your healthy snacks for instance, if you don't do exercise, if you don't procure activities that will make you stronger so you can deal with everyday life"
The Raleigh Boys and Girls Club opened in April 1967 and has now grown to be the largest in the state and one of the top 100 clubs in America. It serves nearly 5,000 children and teens through fun, educational and innovative programs.
The Junior League of Raleigh volunteers have been actively involved with the children and families in this program, which made them the perfect partner for the Junior League's initiative.
"When looking for community partners to promote healthy eating habits through our Kids In the Kitchen program, the Brentwood Boys & Girls club was a natural fit," said Jennifer Reel, media spokesperson for the Junior League of Raleigh. "We are excited for this collaboration between our Kids In the Kitchen program and our well-established community partner, the Brentwood Boys & Girls Club."
For a look at some of the healthy recipes showcased at the event,
click here
.
For more information in joining the Junior League of Raleigh click
here
.
Report a Typo