CHAPEL HILL, N.C. (WTVD) -- The suspect in the deaths of three Muslim college students in Chapel Hill had at least a dozen firearms stashed in his home, according to search warrants released Friday as world leaders decried the shootings.
Warrants filed in Durham County Superior Court listed an inventory of weapons seized by police from the Chapel Hill condominium of Craig Stephen Hicks, the 46-year-old charged with three counts of first-degree murder.
Click here to view the warrants.
The warrants list four handguns recovered from the home Hicks shared with his wife, in addition to a pistol the suspect had with him when he turned himself in about an hour after the shootings. The warrants also list two shotguns and six rifles, including a military-style AR-15 carbine. Police also recovered numerous loaded magazines and cases of ammunition.
Eight spent shell-casings were found in the neighboring apartment of 23-year-old Deah Shaddy Barakat and his wife, 21-year-old Yusor Mohammad Abu-Salha. Yusor's sister, 19-year-old Razan Mohammad Abu-Salha, was also killed.
Relatives say all were shot in the head. However, authorities haven't disclosed exactly how the victims died.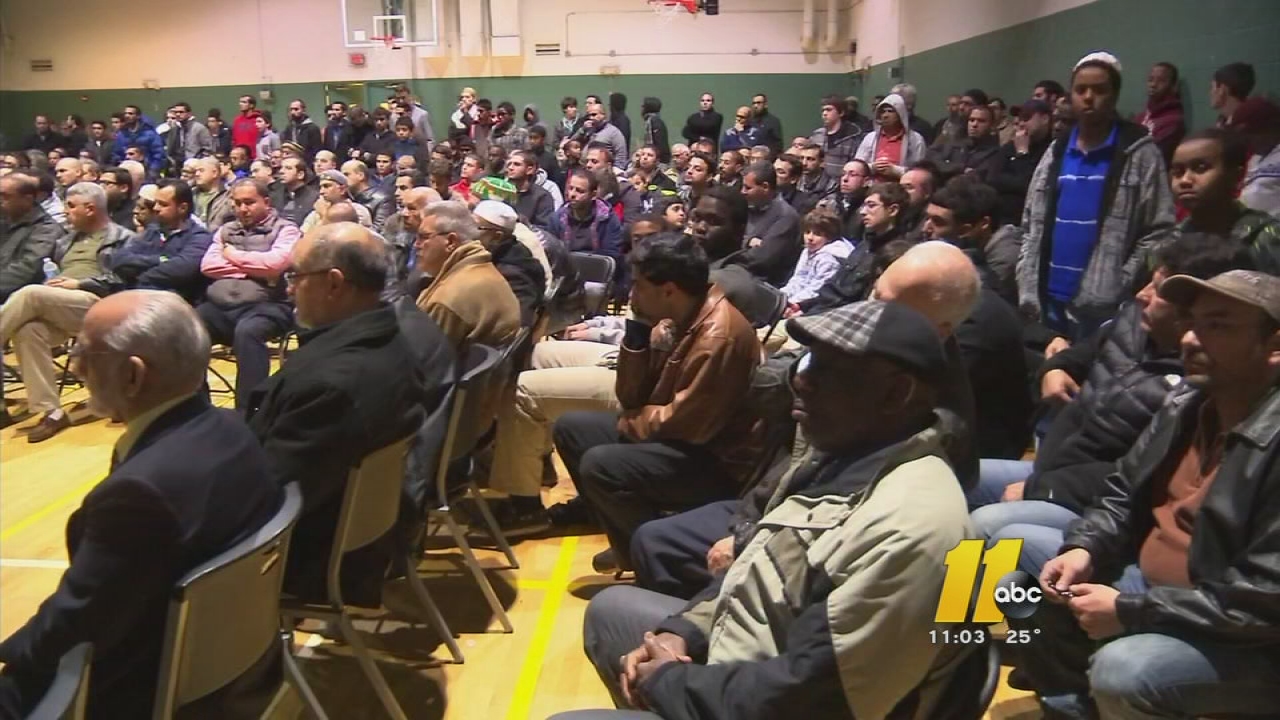 Meanwhile, hundreds of local Muslim worshippers came out to the Islamic Center of Raleigh Friday night to express condolences to grieving loved ones and celebrate the lives of three students shot to death in Chapel Hill.
"Allah chose him as a tool to have my brother, his bride and their bridesmaid enter Jannah together just six weeks after they got married here on Earth," Barakat's brother Farris told a room full of mourners. "Valentine's being tomorrow, I'll tell you right now this is the love story of a century. This is a story that has changed American context of Muslims. This is a story that has impacted the world as well."
Namee Barakat, Deah's father, sat in silence while Mohammed Abu-Salha spoke about his two deceased daughters and his family's devastation and exhaustion this week.
The Islamic community around the globe fears the killings could be a hate crime. The FBI is investigating whether any federal laws were broken.
Earlier in the day President Obama condemned the killings saying, "No one in the United States of America should ever be targeted because of who they are, what they look like, or how they worship. As we saw with the overwhelming presence at the funeral of these young Americans, we are all one American family."
Barakat's uncle praised the president's words, but said he wants to see the killing treated like a hate crime.
"I voted for Obama. I respect the statement he has said," said Faek Barakat, "but I need to see a serious investigation. Words is not going to make me happy when I hear just the president supported you, but what's the president going to do?"
The leaders within the Islamic Association of the Triangle admitted they needed to educate the public more about Islam.
They're beginning their outreach Saturday by holding a service inside the Islamic Center of Raleigh at 4:30 p.m. open to the public and all faiths.
Classmates remember shooting victim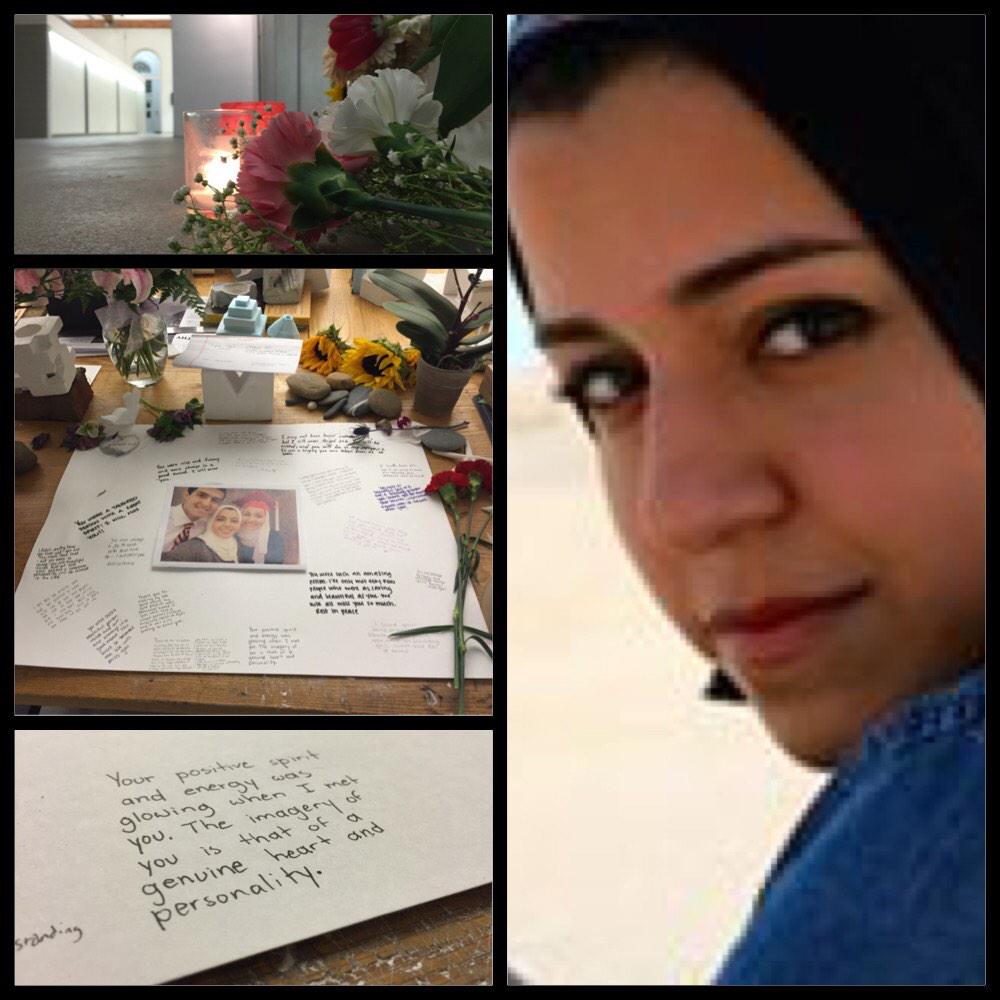 Razan's NC State classmates invited ABC11 inside the school's design studio Friday evening. They showed us the desk where the 19-year-old was working earlier this week and the projects she was in the process of finishing right before she was killed.
"We all haven't really honestly completely accepted that this happened, that this could have happened," said classmate Evan Smith.
There are growing memorials inside Leazar Hall. Her desk is covered with flowers and written notes. In the hall, students have left candles, intricate drawings, and hand-painted portraits.
"I thought I'd be nice to remember her. Being able to look at her every day even though she's not here," said Smith.
It was just a few days ago, Razan and the classmate were all together. Nobody was could imagine what would happened later that Tuesday.
"We had class that day. So we all saw her four hours before," said Smith.
Razan left State and went to Chapel Hill to visit her sister and brother-in-law when police said Hicks shot all three in the head in a dispute over parking.
Wolfpack Nation stood as one Thursday night at a vigil. Thousands of people with heavy hearts bowed their heads in the Brickyard. They prayed, cried, and comforted one another.
"It was just so hard to believe anything had happened honestly. But I was happy that they were there, that many people were there and showed their support...so many people that didn't even know her were there showing their respecting for her," said Ward.
The hard part for the students is moving forward.
"She's just like one of the nicest people in the studio," said Smith.
"The fact that she wouldn't be there now when were all done," said Ward.
Students are hoping to paint a mural at the Free Expression Tunnel in her honor.
The Associated Press contributed to this report.
Report a Typo