DURHAM (WTVD) -- Some of 72-year-old Dorothy Holloway's 12 grandchildren and 20 great-grands have come to visit in the hospital, but she still can't bring herself to tell them why she's there.
"Well, they don't know that I got shot. All they know is that I'm in the hospital. I didn't want to tell them that," Holloway said.
None of what happened Feb. 12 makes sense to Holloway.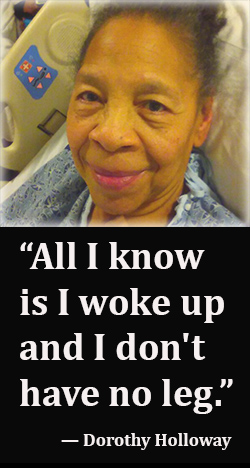 She says she remembers coming back to her home on Forrester Street from shopping with her children. Someone heard gunshots outside. Bullets pierced into the house. Her daughter jumped on her mom to shield her.
But when Holloway regained consciousness, she was at Duke Hospital; doctors had amputated her left leg and there's another bullet wound in her right.
"But I don't remember none of it. And I still don't remember," Holloway said. "All I know is I woke up and I don't have no leg."
Thirteen days after the shooting, Durham County sheriff's deputies were back in the neighborhood Thursday. They were passing out flyers, trying to keep the case from going cold. There have been no arrests.
Holloway's son, Antonio, shared cell-phone video with ABC11 that was taken last year as his mother was learning how to walk again after a debilitating nerve condition.
Since the shooting, he's been at a loss for what to tell his mom.
"(She says) like son why did they shoot me? I'm like I don't know! I don't know!" Antonio said.
"I'm going to recover, but I got to get an artificial leg and learn how to walk again," Holloway said.
RELATED: Son pleads for shooters to turn themselves in
As for whoever shot her, Holloway suspects it was local teenagers with "too much time on their hands." She spoke of the need for more mentoring and anti-violence programs.
"If I was younger, I would try to do a program myself. But I can't do nothing now. It's just sad." Holloway said.
Holloway is also legally blind. She has a tough road ahead -- forced to learn to walk again for a second time once she's fitted with a prosthetic leg.
Meantime, Durham county investigators are eyeing three potential suspects, but they still need more information.
Call Durham Crime Stoppers at (919) 683-1200 if you can help.
Report a Typo