HOUSTON (WTVD) -- Don't expect high-scoring games this weekend in Houston. History says it's not going to happen. Kenpom.com backs this up with some eye-popping numbers.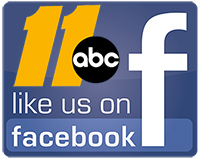 During the last 10 NCAA games here at NRG Stadium, teams have seen on average a 4 percent drop in field goal percentage from deep. UNC isn't a high volume "three" shooting squad, so that shouldn't be a huge deal for the Heels.
In fact, UNC ranks near the bottom in 3-point attempts per game, launching about 17 a game -- that's 312th in the country.
The setting and depth sight lines will take some getting used to. There will be 71,000 fans jammed in here as the Final Four venues get bigger and bigger.
UNC senior guard Marcus Paige says he's trying not to think about it.
"I don't think it's as big of a deal as some people make it, but then again I haven't played any games in here so it's hard to say, but we'll get a chance to out there and get used to the environment," Paige said. "Just got to block that stuff out. I think if you think about that too much and anticipate it being a problem then it becomes a problem. If you just approach it as a regular basketball game then hopefully you can treat it as a regular gym."
Easier said than done, and I'm sure that's been the approach of previous teams.
Syracuse coach Jim Boeheim isn't putting much stock into the background being a problem.
SPECIAL COVERAGE: UNC IN THE FINAL FOUR
"Guys that can shoot can shoot anywhere," he said. "They can shoot outdoors. It doesn't matter."
Daniel Ochefu, Villanova's 6-foot-11 forward, isn't worried about shooting in the big stadium.
"If I can't hit a jump hook or a dunk because the fans are further away, it's ridiculous," he said. "All my shots are inside the paint. I don't think depth perception on the court will be a big deal for me."
His teammate, Villanova leading scorer Josh Hart (15.3 points per game), who has taken 150 3-pointers this season, said he'll probably be driving more in the Final Four after a few air balls during shootaround at NRG Stadium.
When the Final Four was here in 2011, Butler shot 18 percent and ended up losing to Connecticut. Good thing North Carolina likes to pound the ball inside. It could be the key to a sixth national championship.
The Associated Press contributed to this report.
Report a Typo