CHAPEL HILL, North Carolina (WTVD) -- Sometimes, like typical siblings, these Fayetteville sisters bicker or play pranks on one another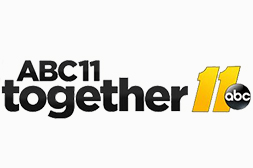 "We would joke around the whole day and we wouldn't even think about what we were mad about," said Natalia Yarrell, 12.
Check out more information about "Match Madness" here.
Older sister Nyasia Yarrell, 14, counters. "She's a little gullible," she said with a laugh. "I will say that now."
It's not always easy for Nyasia to laugh - she's battling sickle cell anemia, a blood disease that puts her at a high risk for stroke. She said it feels like a hundred tiny needles poking around.
"I wanted to do a lot," Nyasia said. "I also wanted to go ride horses but it's kind of hard having sickle cell, not knowing when something is going to happen."
Nikki Yarrell, the girls' mother, said it's hard because "we never know when that major stroke will happen."
Nyasia was getting by with regular blood transfusions until her sister, Natalia, gave her new hope - volunteering to be her bone marrow donor -- and finding out she is a 100 percent match.
"Without asking twice, did not think twice about it, didn't even mention it that much," Nikki said. "She just knew she was going to do it and that was it."
"The doctors actually explained it to me thoroughly," Natalia said. "And I was like, 'oh, it'll just be a piece of cake.' "
Nyasia Yarrell, who is receiving treatment at UNC Cancer Center, has only one reservation about her sister's love-filled gesture:
"I don't like it a little, because I know we bicker a lot, and she might use this against me someday, someday," Nyasia laughed.
The Yarrell family wants you to know there's something you can do to help - like regularly giving blood or signing up for the bone marrow registry.
"There are a lot of kids out there who are sick with cancer, or sickle cell, whatever and there's nothing that can help them but this," Nyasia said.
You can sign up to become a part of the registry at ABC11 Together's "Match Madness."
It takes place Saturday, March 25 at the center court of the Streets at Southpoint mall in Durham. Folks from Be the Match will be there between 11 a.m. and 2 p.m. You can find
additional information here
.
Report a Typo