DURHAM (WTVD) -- After two years of waiting, Dorothy Holloway, a 74-year-old grandmother, is still clinging to hope for her attacker to emerge.
Holloway became the victim of a drive-by shooting at her home off Forrester Street.
READ MORE: 72-year-old woman seriously hurt in Durham County drive-by shooting
The shooting happened on the evening of February 12, 2016.
Melanie Holloway: "She's the strongest woman I know." That's how Dorothy Holloway's daughter describes her mother. In 2016, both took cover as bullets flew through their home. "It was like fireworks. I crawled to her and laid on top of her." @DurhamSheriff still investigating. pic.twitter.com/lj01zHRpSR

— Tim Pulliam (@TimABC11) February 19, 2018
Holloway said she was watching TV in the living room with her daughter when bullets flew through her home, leaving her critically wounded.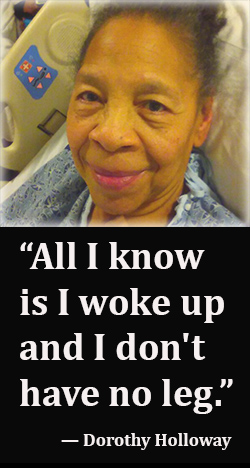 Her leg was amputated and now she walks with a prosthetic leg.
And the Durham Sheriff's Office believes the shooting was not random.
Stay on top of breaking news stories with the ABC11 News App
More than two years later, the crime is still unsolved.
Dorothy Holloway's daughter spoke to Tim Pulliam on Monday afternoon about the case and how frustrated her family is that there have been no arrests.
"It's devastating. I would not wish this on anyone. No one deserves for their house to get shot at," Melanie Holloway said.
A spokesperson for the Durham Sheriffs Office said the case is still under investigation and remains a top priority.
Authorities said they continue to follow leads and try to develop new ones as well.
But they are also looking for the community's help.
Dorothy Holloway on her 74th birthday recently. She was a victim of a drive-by in 2016. Family is praying for closure. Her daughter says: "This is something that will always be with us forever. Please come forward." $5,000 reward for tip leading to arrest. Call 919-683-1200 pic.twitter.com/PJ1pX0x76W

— Tim Pulliam (@TimABC11) February 19, 2018
Those with information are asked to call the Durham Crimestoppers anonymous tip line at (919) 683-1200 or the State Bureau of Investigation at (919) 662-4500.
There's a $5,000 cash prize for any information that leads to an arrest.'
"Anybody who knows anything, can you please step forward," she said. "Please stop the violence. Please stop the shooting and killing. It's hurting innocent people for no reason at all."
Holloway and another relative were inside the home at the time of the shooting. They were not hurt.
READ MORE: Gov. Cooper offers reward in 73-year-old Durham woman's shooting