HOLLY SPRINGS, N.C. (WTVD) -- Holly Springs business owner Nic Baliva's promises are big. He'll get your food truck on the road. But food truck entrepreneurs tell us once Baliva gets the money, he doesn't fulfill the contracts.
We first told you about
Baliva's empty promises in February
. Four different food truck owners gave Baliva large deposits, yet Baliva never completed their food trucks. In February, Baliva told me he's no longer in business, looking for a job, and would repay 100 percent of his debts.
Shortly after our story aired in February, Baliva opened a fourth food truck building company called Premier Food Trucks. He not only opened a shop in Chapel Hill, but across the country in Reno, Nevada.
NEW BUSINESS, SAME PROBLEMS
Elizabeth Kerr had finally saved up enough money to start her business. But since hiring Nic Baliva of Premier Food Trucks to design her food truck, her dreams have been put on hold.
"He basically just installed material that we had already provided," Kerr said. "It's not painted or wrapped,"
Kerr and her fiance, Brandon, paid Baliva a $5,800 deposit to build her dream food truck. She said all she got in return was a headache.
"Time wasted," she said. "I mean the whole purpose of being up here was so we could get on the road quicker. And you know, with his guarantee of ten days."
But after ten days, Baliva had not completed the project.
"The only thing he actually accomplished was, he did put some aluminum on the ceiling," she said.
Baliva kept emailing promises that his Premier Food Trucks company would finish the job, but Kerr learned otherwise.
"[The truck is] pretty much in worse shape," she said.
Baliva did leave a note inside her unfinished food truck.
"He just deeply apologizes for everything," she said.
He also left her a check for $3,500, but she says when she took it to the bank there was not enough money in Baliva's account to cash it.
Pinup Girl Coffee, San Francisco, California
Sabrina Grillo has been running her dream business out of a small trailer in California.
"It's so tiny," she said.
With bigger plans for the business, Grillo started saving to move "Pinup Girl Coffee" out of the trailer.
"I wanted something self-contained," she said.
She paid Premier Food Trucks, who also claimed to have a shop in Nevada, a $16,145.69 deposit to retrofit her truck.
"Nic was charming and knowledgeable, had lots of ideas and got back with her right away," she said.
But when she and her partner went to meet Baliva and see their truck, they were surprised by what they found.
"We were halfway outside of Reno, which it was a four hour drive for us, and he emailed us and said he wouldn't be there," Grillo said.
And the next time they scheduled to meet, Grillo says Baliva was no show again and nothing had been done to their truck.
They did some more research on Baliva and came across our previous investigation.
Read More: I-Team- What's keeping food trucks from hitting the road
"I worked so hard and you think you're getting somewhere and it really pulled the rug from under me," Grillo said.
Jive Turkey Legs, Charlotte, NC
Philip Webber started cooking before he was even old enough to see above the stove.
"I've always loved cooking and I've always loved cooking in the family," he said.
So he set out to turn his passion into a career. He and his business partner opened a small restaurant in Gastonia. When that business failed, he had another plan.
"Then we found Nic, who would build a food truck in a short amount of time, and who promised great work," Webber said.
Webber paid Baliva nearly $14,000 to get his "Jive Turkey Legs" business going.
After multiple delays and lost opportunities for revenue, Webber finally drove to the Premier Food Trucks location in Chapel Hill and demanded Baliva to hold up his end of the bargain. When he got to the location, Baliva didn't even have the trailer he was supposed to buy with the deposit Philip gave him. Philip says Baliva had another plan.
"Okay, I'm going to give you this loaner truck. It's 90 percent done, all it needs if your equipment on it," Webber said.
But the truck Baliva wanted to loan him already had another business logo on it.
Baliva told him not to worry about it so Webber took the truck back to Charlotte but decided to call the number on the truck to make sure it was okay.
"I said, 'Nic Baliva at Premiere Food Trucks gave me this truck as a loaner truck and he said he's a friend of yours, is that so?'
'No, he is not our friend, he's had our truck for a year and a half and $15,000 and we can't get it,'" Webber explained
Webber gave the truck back to the rightful owners and did some extra research.
"I Googled his name and I saw his story and when I saw your story, my heart sunk. I don't want anyone else to face what we've faced," Webber said. "He made all those empty promises."
Philip was able to get the trailer Baliva paid for, but Baliva did nothing to it.
All three business owners turned to me after they say couldn't get action from Baliva.
GETTING ANSWERS FROM BALIVA
I reached out to Baliva. He told me he was dissolving Premier Food Trucks, but did want to tell me his side of the story.
He canceled the first meeting, and said he'd meet me after he made things right with Webber. Webber said Baliva promised to refund him if he would return the equipment Webber had from the loaner food truck.
Webber agreed and invited us along to the meeting.
As Baliva was loading the equipment into his SUV, I tried to get some answers.
Diane: "Hi Nic, how are you doing?"Nic Baliva: "Hey guys, can I have two seconds here to get all the rest of this?"Diane: "Go ahead."Nic Baliva: "Thanks"
I agreed to hold my questions until he was done loading his car, but then this happened.
Click here to watch on the App
Nic Baliva: "See you tomorrow at 11."Diane: "Oh no no no. Nic wait, come on, seriously Nic you're not even gonna stay around after all that?"
Baliva left without answering any of my questions. He agreed to come to our ABC11 station to sit down with me and tell me his side, but he never showed up.
Baliva did make things right for Webber. Baliva gave Webber a cashier's check for $10,779.64.
"I feel somewhat better that he didn't totally get away with what he was doing. I hope the same for other people who are victims of Nic Baliva and they receive some type of restitution for what's been done to them, and there's a lot of people out there and they deserve the same," Webber said.
As for Elizabeth Kerr, after I started asking questions, Baliva gave her another check for $3,500, and this time it cashed. She also got some of the equipment she paid Baliva for including a propane tank, fan for the hood, 3 compartment sink, prep table. She says they are still waiting on the hot water heater and fresh water tanks.
Not the same good news for Sabrina Grillo and her business partner, Ivy Petersen of Pinup Girl Coffee Company. They are still waiting for Baliva to return their $16,145.69 deposit.
HOLLY SPRINGS ELEMENTARY SCHOOL PTA
I also heard from the Holly Spring Elementary School PTA. After a rep from the PTA saw our first story, she reached out to me and says Baliva took $600.00 from them. When Baliva owned Blue Sky Dining and went by Chef Mike, the Holly Springs Elementary School PTA paid him a $600.00 deposit for an event. The day before the event in December 2013, the rep for the PTA says Baliva (Chef Mike) sent this email: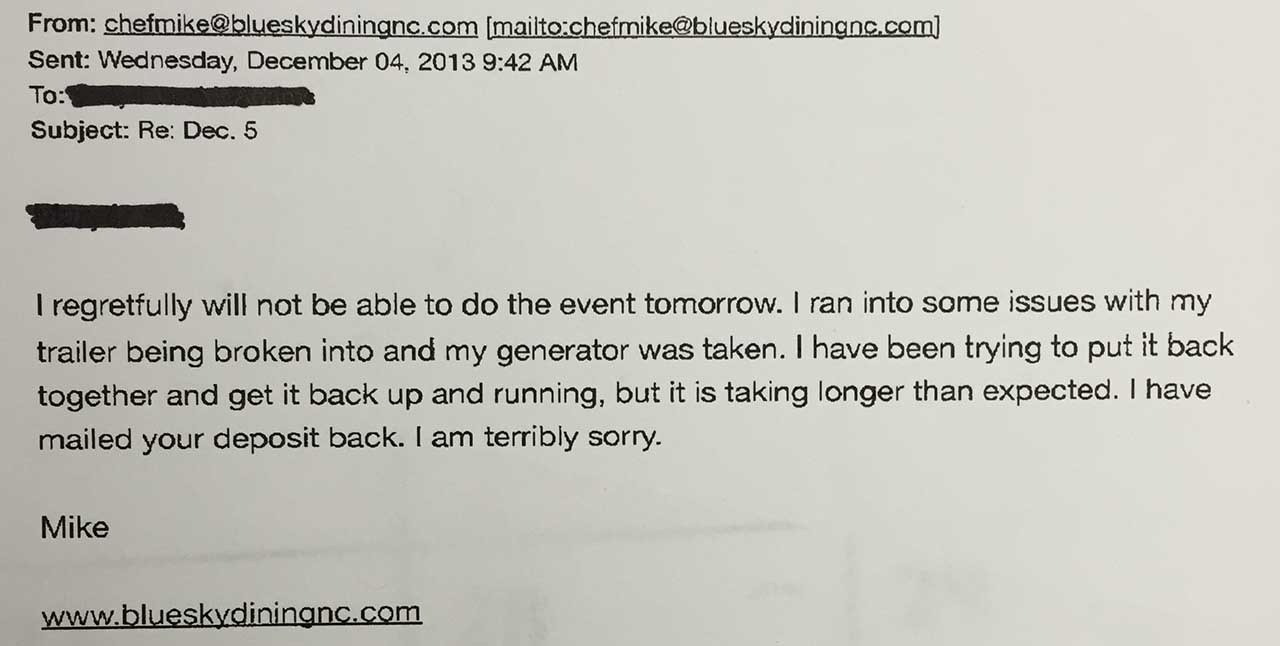 The PTA scrambled to find a caterer for their event, and in emails Baliva promised to refund the PTA their $600.00, but so far the rep for the PTA tells me that hasn't happened.
UPDATE ON PAST FOOD TRUCK OWNERS
Baliva has made several promises he would make it right, including to Tara Mortimer. Her frustrations were highlighted in our first story when Baliva promised to pay her back. He slowly sent her checks, one $8,000 check that she says bounced and she was forced to pay a bad check fee on. She says Baliva eventually gave her a new $8,000 check that did clear the bank, but says Baliva still owes her $1,100.25.
Craig Powell is another food truck owner who says Baliva took a $6,500 deposit to have his trailer up-fitted for a food concession business. Powell says after our first story, Baliva's mom paid Powell his money back.
The best advice, before handing over money to anyone, do your research on them. While many of the food truck owners did research Baliva's company name, Premier Food Trucks, they did not find anything. A quick Google search of Baliva's name, and you will find the problems business owners say they've had with him, including my past story.
Report a Typo