"Aqui estamos," they chanted. "No nos vamos!"
Here we are. We're not going.
The words make sense when you think about what House Bill 318 means for undocumented workers. It will make it more likely people here illegally will be sent back to their home countries.
The bill nullifies a widely used form of ID for undocumented migrants, outlaws sanctuary cities, and forces local governments to abandon policies offering protection for folks here illegally.
Read more: Progressive leaders speak out against Immigration Bill
Chapel Hill is as close to a "sanctuary city" as it gets in North Carolina and councilwoman Maria Palmer says she's proud of that.
"Sanctuary has come to be a bad word," Palmer told a crowd of a few dozen advocates. "You know what? It's not a bad word. It's where people who are being persecuted find protection; not criminals. We do not protect criminals."
Palmer blasted Gov. Pat McCrory for sending out fundraising emails over the past week demagoguing sanctuary cities and suggesting they do protect "drug traffickers, human traffickers and violent criminals."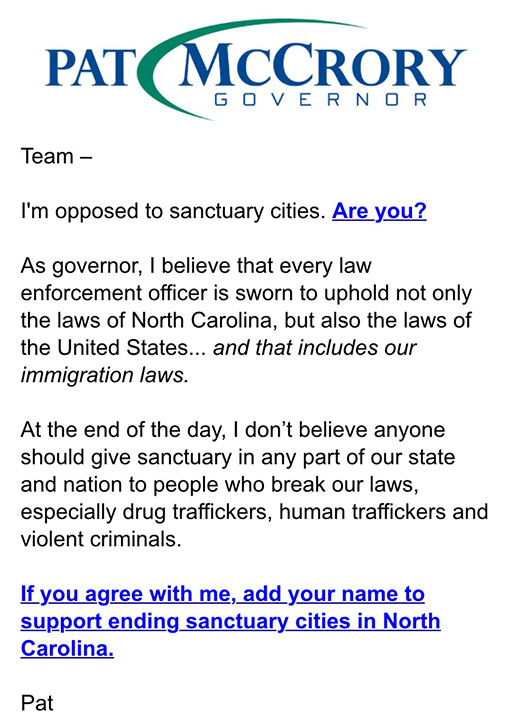 "You can use this for political purposes and for fundraising," Palmer chided the governor, "but it's not morally right. It's not right to do to our community."
But what McCrory said in the email is right in line with much of conservative thought in North Carolina.
Ricky Diaz, a spokesperson for the NC GOP, paraphrased the Governor's statement almost word for word.
"As a nation and state of laws," Diaz said, "we need to make sure we're enforcing all our laws and not giving sanctuary to anyone who breaks them, including our immigration laws."
But Palmer pushed back on the suggestion that "giving sanctuary" is the same as protecting criminals. "What we do is we help our police officers understand that there's a real difference between policing the community and getting involved in a political fight."
Report a Typo