FAYETTEVILLE, NC (WTVD) -- Fayetteville PWC crews repaired a power outage that affected 30,000 customers in the Fayetteville area early Christmas morning.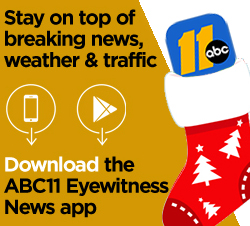 It began around 3 a.m. Christmas morning and was fixed around 5 a.m.
It happened in an area that runs from downtown Fayetteville westward to Morganton Road; North to Pamalee Drive, South to Hope Mills Road/Cumberland Road and runs out Raeford Road to the Hoke County Line.
Officials said initial indications are that outage occurred at a location in the PWC system where power is fed from the Duke Energy system. The cause is still under investigation. null