FAYETTEVILLE, North Carolina (WTVD) -- From soldiers to business owners, two former Fort Bragg soldiers have launched a craft brewery in downtown Fayetteville.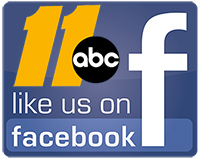 The owners of Bright Light Brewing Company both fought in the war on terror. They're celebrating their grand opening just days after a measure that would limit craft beer output failed in the state House.
Eddie Ketchum and Chris Greive teamed up with tattoo artist turned brew master, Mike Ray to bring a unique family experience to downtown Fayetteville.
BLBC started construction in November. They remodeled what used to be a fitness gym into what will soon be a 1,000-barrel brewery.
BLBC will have 10 North Carolina craft beers on tap, six wines and for the kids: sodas and juice.
The BLBC opens just in time for baseball as its back patio overlooks the police department, adjacent to what will soon be the multimillion-dollar minor league baseball stadium.
The BLBC is open five days a week, closing nightly at 10 p.m. Kids and well-behaved dogs are welcome inside.
Find out more about the brewery on its
Facebook page
.
Report a Typo