RALEIGH (WTVD) -- As the clock ticked down to Christmas Day, many people were still out shopping on Christmas Eve.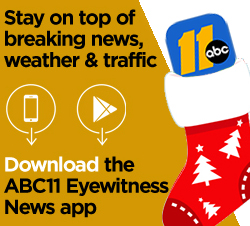 "Semi-busy, not too bad," said Daniela Mahoney as she described the crowds. She had just flown in from Orlando and was out shopping Thursday night after spending an entire day at Disney World.
"We're just shopping for last-minute gifts, something my niece really wanted, and we came and got it," Mahoney said.
Tonya Neil and her husband, Chris, were out shopping for last-minute supplies and said for the most part, the crowds weren't too bad, expect for one very important detail.
"Just stay away from the toy department," Chris Neil said.
Overall, many consumers nationwide, typically leave the shopping until close to the finish line. The National Retail Federation reports that by mid-December only about 10 percent of people surveyed said they were finished with their holiday shopping.
Jason Hobbs joined the number of people left on Christmas Eve still checking things off their list. He was out shopping with his wife and 10-month old daughter, Leah.
"Just got to go home and wrap," said Hobbs, as he and his wife wrap up their to-do lists and get ready to celebrate Leah's first Christmas.
Report a Typo