FRANKLIN COUNTY, N.C. (WTVD) -- Plenty of parents know what it's like dealing with a picky eater. But for 3-year-old Liam Edwards' parents, it goes beyond frustration. Their son's "pickiness" is actually due to sensory processing disorder and is so severe that it can be life-threatening.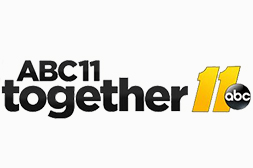 "Liam has autism. Associated with autism, kind of (in an) umbrella underneath that, he has sensory processing disorder and childhood apraxia of speech," shares his mom Johannah Edwards.
Check out how you can help Liam's family here.
Liam has been working regularly with doctors and therapists at UNC Children's Hospital and the Abilitations Center in Raleigh. Through a variety of exercises they've tried to help him adjust to the world around him.
"He views sensory input as harmful, so he will not engage with his environment - mostly with the touch sense, tactile, or with oral, his mouth, his oral sense. So we would expose him to playing with sticky things, messy things, deep pressure touch, and accepting touch and things around his face," details his occupational therapist at Abilitations, Kimberly Griffin.
"Sensory processing disorder is the difficulty for a child to take the information from their environment and use that information appropriately," she further explains.
For young Liam, the biggest consequence of this has been the impact it's had on his ability to eat.
"He automatically goes to respond, 'that's going to harm me, I don't want it near my body,'" says Griffin. "He would rather not eat than put whatever that is you put in front of him in his mouth."
And lately his aversion to foods has gotten worse, with him now only eating 3 types of foods that have to be prepared and served in exactly the same way, right down to the plate he eats off of and the cup he drinks out of.
"It got to the point where he would only drink out of one certain cup, and that cup he started chewing the tops of them off, and we had to replace them. And we found they didn't make them anymore. So, we had to order the last ones from France and bid $45 per cup on eBay," his mom shares.
But even with the right utensils at hand Liam still runs the risk of another problem.
"With three foods we run the risk of him experiencing something called 'food jagging.' That's where he has three foods and if he becomes sick of one, or two, or three of these foods he will narrow it down to two or one, and at that point we're looking at hospitalization for feeding or dehydration," says Griffin.
She also notes that something like that would be a nightmare for a child who already has sensory processing disorder.
Because his situation has deteriorated his local therapists recommended a much more intensive feeding program at St. Joseph's Children's Hospital in New Jersey where health professionals could work with him day in and day out over a five week period.
"They have a pediatric clinic for feeding and swallowing for kids just like Liam who have multi-faceted reasons for why they can't eat or drink," shares his mom. "Liam needs that frequency, he needs it to happen often to practice it, and for it to become ingrained in his routine and his muscle memory."
The goal of this program is to increase Liam's tolerance from three foods to thirty, a very real possibility that would hopefully be a lifelong habit for the youngster. While insurance does cover some of the program, there are other costly expenses the family is facing, including paying for behavioral therapy out-of-pocket, along with paying to stay in a hotel in New Jersey for five weeks.
To help cover those costs the family has started the "Liam, Let's Eat!" Campaign which they've launched on
YouCaring.com/LiamLetsEat.
You can also follow his progress on Twitter
@liamletseat1
and Instagram
@liamletseat.
Report a Typo