Whether you say pee-can or peh-kahn, this tree-bearing nut is a top agricultural commodity for North Carolina. We rank in the top 10 in the United States for pecan production and farmers produce three to five million pecans annually. While most of us enjoy pecans during the holidays, the nut is available all year and is a great, healthy snack.
Pecans are rich in copper, iron, magnesium, phosphorus, zinc and vitamin E.
Even though I have a great holiday recipe using pecans for a sweet potato souffle, I thought it would be fun to showcase a few recipes that don't remind us of the holidays. For lunch the other day, I used pecans as a topping for my salad. I tossed together mixed greens, tuna, avocado and added some pecans for a little crunch. Have fun with using pecans as a topping for a salad by combining your own ingredients.
Leigh Hines is an ABC11 Influencer, learn how you can become one too!
Here are a few other recipes that use pecans as well.
Fettucine with Zucchini and Pecans
Toasted pecans with zucchini, asiago cheese, basil, and fettuccine make this recipe simple for a weeknight meal.
Banana-Pecan Smoothie
Pecans add great flavor to this power-protein smoothie with vanilla yogurt as a base. For even more protein, use vanilla-flavored Greek yogurt.
Fresh Asparagus with Pecans
This marinated asparagus side topped with pecans pairs well as a side in the spring and summer with grilled chicken.
Paula Deen's Pecan Chicken Salad
You're either a fan of grapes and pecans in your chicken salad or not. Personally, I love the two flavors mixed in for the crunch in place of traditional celery. Paula adds sour cream to this recipe to add to the uniqueness. Great on a croissant.
Pecan Crusted Salmon
If you do a google search for pecan crusted fish then you can use a pecan breading for most any type of fish. I like a pecan crust with salmon. I chose this dish for the ease. There is no need to get out a processor and using mayonnaise as a base helps the crust stick to the fish when baking. The cucumber dill sauce can be optional. I skip it because my kids won't eat it. Not a mayo fan, then you may like this recipe with dijon mustard, instead.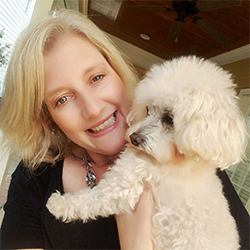 About Leigh Powell Hines and the
HinesSightBlog
. Leigh is a North Carolina native who is a former TV journalist turned online storyteller/publisher. On her personal blog, Leigh gives her Southern spin on food, hotels, and life. Leigh is also the founder of the
OutaboutNC social media community
which helps market travel and tourism in North Carolina. Follow Leigh on
Facebook
,
Twitter
and
Instagram
.