ZEBULON, North Carolina (WTVD) -- John Middleswarth was just named "Citizen of the Year" in Zebulon after the former truck driver who's on disability decided he wanted to do more for his community to earn the check, so he took to the streets to pick them up.
If it's between sun up and sundown, you'll probably find Middleswarth picking up litter and recyclables somewhere in Zebulon as folks honk their horn hello.
"I'm everywhere. I'm like Santa Claus," Middleswarth said, stroking his big, Santa-like, beard.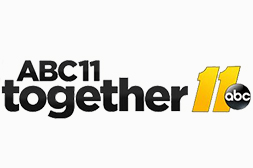 He has a tall waist-high garbage bin filled with crushed cans that he collected in just one week. He collects several garbage bags full of recyclables and trash a day.
He's found all sorts of things like licenses, phones, and wallets - stuff that's even helped police on stolen purse crimes.
"The fact that he's dedicating these years of his life to doing this to giving back to his community is so inspiring," Denise Nowell with the Zebulon Chamber of Commerce said.
Middleswarth said the Little River Park is his pride and joy. According to Zebulon Parks and Recreation, he first helped to pick up the park several years ago before it was incorporated as part of the town.
"I got up there and I looked at the dam and I said 'this is beautiful,'" Middleswarth said. "'You know it's a beautiful old mill dam,' and 'It's a crying shame somebody can't clean this up and make it into a park,' and a little voice in the back my head said 'what's the matter with you?'"
While he was always into cleaning up, it didn't become a 7-day-a-week activity for him until he developed heart problems and peripheral neuropathy - a condition where he can't always feel his feet.
The medical problems led him to give up his truck driving license, after 37 years on the job, to avoid an accident.
"I don't think I could live with myself if I injured a family," Middleswarth said.
His doctor recommended walking, and he's lost almost 100 pounds over the years walking miles a day and deciding to pick up trash as a way to give back.
"I couldn't stand to draw a disability check and not earn it, so this is my way of earning my disability check and I do it seven days a week," he said.
And he hopes to inspire others too.
"I'm just one guy and yes I make a little bit of a difference but it only takes one person to undo everything I've done," he adds.
Report a Typo