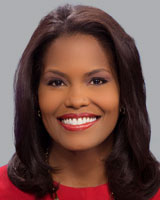 Tisha Powell co-anchors Eyewitness News at 5 and 6 p.m. with Steve Daniels. Tisha also anchors Eyewitness News at 10 o'clock on CW22 with Steve as well as the 11 p.m. show on ABC11. When Tisha is not on the anchor desk, she is out gathering the latest in medical breakthroughs for the Eyewitness News Health and Fitness Report.

Before coming to ABC11 Eyewitness News in 2004, Tisha was the midday anchor at News 9 San Antonio and a reporter and anchor for KABB where she covered the escape of the Texas Seven and the Spurs' NBA Championship. This Louisiana native graduated from Loyola University New Orleans where she majored in broadcast news and minored in political science. After college, Tisha worked as a reporter, producer and anchor for WCBI in Mississippi. She then went back home to WDSU in New Orleans. As a WDSU reporter, Tisha traveled to Honduras to cover the devastation of Hurricane Mitch and then later returned to cover the rebuilding efforts.

While here in the Triangle, Tisha has followed the UNC Tar Heels to the Final Four and traveled back to New Orleans in 2005 to cover Hurricane Katrina for Eyewitness News. Tisha has also interviewed influential people like First Lady Michelle Obama and Oprah Winfrey.

Tisha is an Army wife of 16 years and enjoys traveling the country to watch her 12-year-old daughter compete in gymnastics and track and field. She also enjoys spending time with her youngest daugther Evangeline. She is a parent volunteer with the Girl Scouts of America and Duke School for Children, and an avid supporter of the American Heart Association and Meals on Wheels.

The Louisiana Association of Educators honored Tisha for outstanding education coverage, and the Press Club of New Orleans recognized her for outstanding deadline news coverage. In her spare time, she's also a member of the National Association of Black Journalists and Alpha Kappa Alpha Sorority, Inc.

Request Tisha to speak at your event.
---