DURHAM N.C. (WTVD) -- Salma Mirza and Qasima Wideman are both Bull City residents, both Muslim, and both part of the LGBTQ community. They're asking people of the Islamic faith to have compassion for their sexual identity and orientation, and the general public to have compassion for both.
And while the chairman of the Islamic Association of Raleigh says homosexuality is still considered a sin in the religion, he says everyone, including those of the LGBTQ community, should feel safe and welcomed.
MOHAMED ELGAMAL
Mohamed Elgamal is the chairman is the Islamic Association of Raleigh and he says the Orlando shooting that killed 49 innocent victims is a tragedy, and is considered one within his faith as well.
"Killing one innocent soul is as if you were killing the entire human race, and if you saved one it's as if you saved everybody, so this is clearly against that," he said. "But what we really need to let the people know is that they have to respect each other. They should not really discriminate against one another."
That includes those in the LGBTQ community according to Elgamal.
"LGBT community they have a different style. Everybody has a different style, but it does not matter. I think we need to have a mutual relationship which is based on respect, no discrimination, no harming anyone because of their orientation, or religion, or anything else," he said.
While Elgamal believes people of all walks of life should be treated with compassion, he also said from a religious perspective that homosexuality is considered a sin in Islam, but that it is not the only sin and that individuals should not judge others for it.
"I think Islamically, or even in most other faiths like Christianity and Judaism, homosexuality is a sin, but so many things are sins, so we don't ... this sin is committed between you and your God, so we really cannot be God here and judge the people [and say]'Okay this, your sin, needs to be taken in our hands and we'll kill you or harm you because you committed this sin,'" he said.
"Actually when you treat your neighbor not nice, this is a sin in our faith. If you steal something or be corrupt, it's a sin. So we cannot really turn the sinners from coming to the mosque or coming to prayers, actually we want to welcome them, so LGBT is no exception."
Watch Mohamed Elgamal talk about how people should not judge others based on sin.SALMA MIRZA
Salma Mirza is a Bull City resident who identifies with both the LGBTQ and Muslim community, and she says she's struggled facing discrimination for both those parts of her identity.
"The Muslim community really needs to struggle with homophobia and transphobia, but I think our society really needs to struggle with it," Mirza said. "I think the push-back that I've gotten hasn't just been from the Muslim community, it's been from large society."
Mirza says that while she's open about her sexuality to other LGBTQ Muslims and non-Muslims she knows, she still hasn't come out to most of the Muslim community in her life, until now, out of fear.
She said she hopes people in her religious community will forego dogmatic interpretations of their faith in favor of interpretations that are more inclusive.
"I would just really challenge people to challenge their assumptions, challenge why these interpretations are the most elevated, and say that in order to have community we need to talk about these issues more seriously and have space to talk about these issues," she said.
"I mean, before this happened there was no space to talk about this in the Muslim community. I think this is a wake-up call for people in the Muslim community that this is actually something you can't ignore and you need to address, and we need to examine our prejudices and what we think about this and it's not enough to just say, 'Islam doesn't say this, or Islam doesn't condone this', like we have to actually really challenge prejudices and dangerous interpretations."
And while she says she's faced struggles with her sexual orientation in her religion, she says she also faced struggles with her religion when it comes to her sexual orientation.
RELATED: Duke student's post eloquent 'encouragement' to Muslims
"There's also struggles within the queer community against Islamophobia, and so I feel like there's almost like an anti-religion sentiment that people look down on me, or think I'm brainwashed or something like that for being Muslim," she said. "And so I feel like both of those identities are at attack, are attacked."
Watch Mirza talk about how she feels both her religion and her sexual orientation have been attacked.
She said it's important to acknowledge that qualities about a person - things like religion, sexual orientation and preference, and race - don't exist in a vacuum, and it's the complicated nature of these factors coming together in the Orlando shooting that created so much grief for her.
"So many of my friends are queer people of color and most of the people who died were queer and trans Latinos and black folks, and so I felt really isolated and just like ... I had already thought 'Okay what is our response to this?'" Mirza said.
"Do we even have space to grieve this or do we immediately have to go and say this is a problem with our society. This isn't just about one community. This is stemming from larger issues in the world."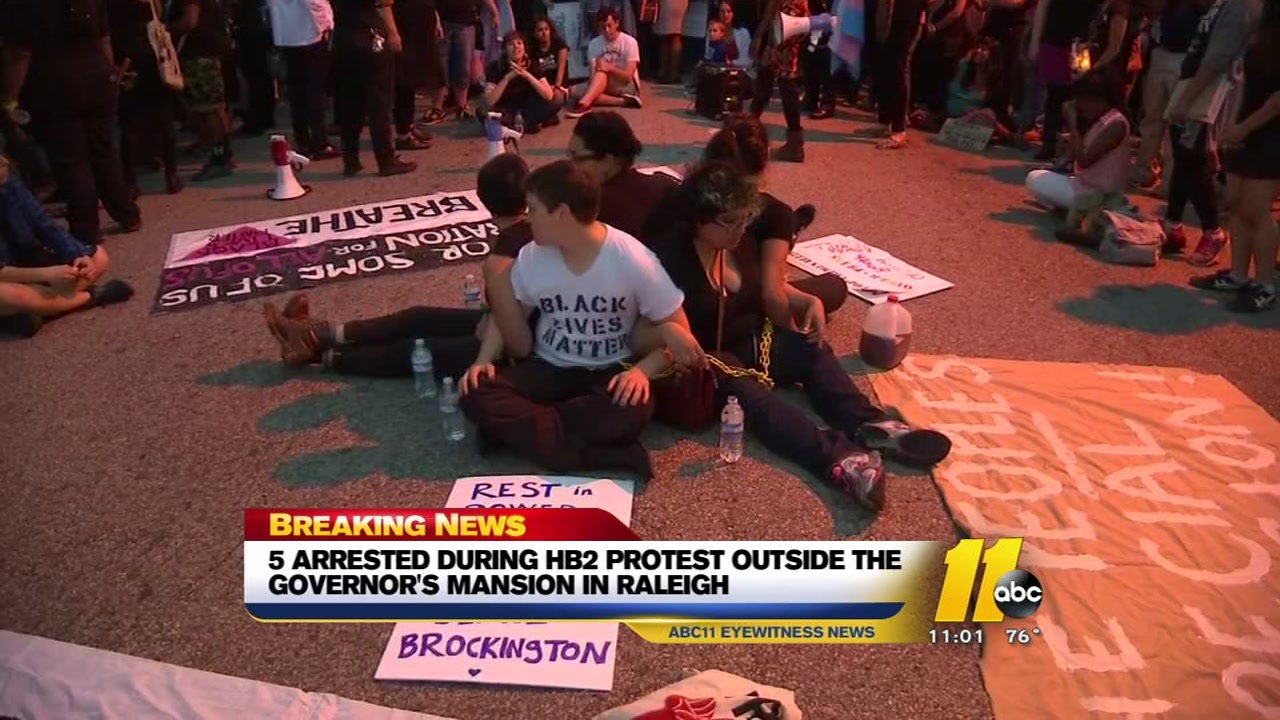 Mirza is a passionate anti-HB2 advocate, and before the Orlando shooting, she was one of the five protesters arrested in front of the Governor's Mansion for impeding the flow of traffic.
RELATED: Police arrest 5 at protest outside governor's mansion
She said she finds it ironic that people running away from the shooter in Orlando went into the bathrooms to hide while a bill like HB2 has passed in North Carolina, and that this point was brought to her attention after reading her friend's Facebook post.
And while she said she is still in the middle of grieving the shooting, she hopes it's something people will reflect upon.
"That I really feel like people need to refocus on how our culture has created a dangerous place for LGBTQ folks," she offered.
QASIMA WIDEMAN
Qasima Wideman is also part of the LGBTQ and Islamic community. Wideman prefers to be referred to by the pronoun "they," and said their emotions after the Orlando shooting run the gamut from pain, sadness, and anger to love and support for the communities affected.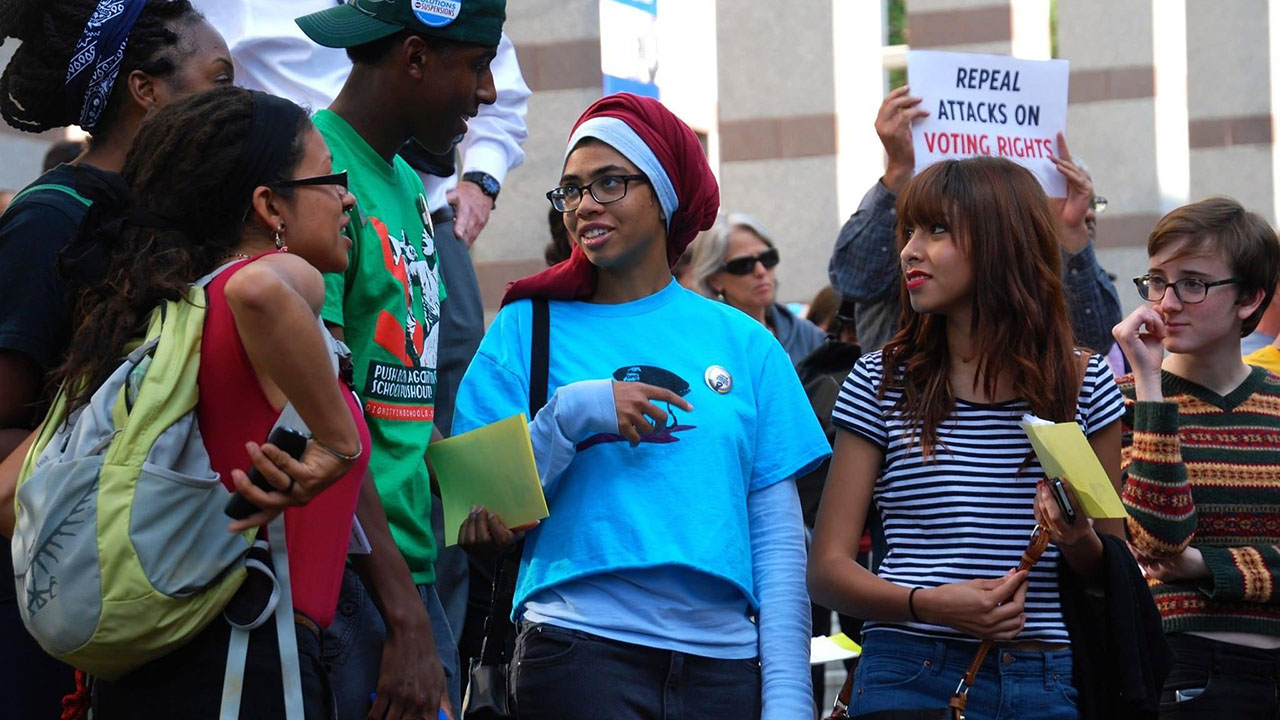 "I'm feeling a lot of sadness, and a lot of pain, and a lot of anger in the wake of these shootings," Wideman said."I'm feeling a lot of love towards my LGBTQ community of color and specifically Latino folks who are the majority of those killed in Orlando, and I'm feeling really outraged about the way that Islamophobia is being incorporated into the media narrative around this shooting."
Wideman said they hope people of faith will open up to the idea that there varying degrees of belief when it comes to the issue of homosexuality, and that it is not something that varies according to one's own sexual orientation.
"I think it's really important to note that while, just like any religion, there is a diversity of opinion in Islam about the question or the issue of homosexuality and there are queer Muslims out there like me and there are straight Muslims who don't believe that being gay or being Trans is a sin," Wideman said.
"I hope that this incident will prompt other people in the Muslim community to see us as family and as members of the Muslim community, and that sometime soon gay and trans and queer Muslims of color will be able to feel safe going to the safe mosques as their parents and the mosques that they grow up in."
RELATED: Orlando shooter at gay clubs on regular basis
Report a Typo