Central North Carolina has experienced a fantastic day with temperatures rising into the lower 80s along with relatively low humidity. Tonight will be pleasant with readings only dropping to the
mid- to upper 50s.
High pressure responsible for helping to bring the region this nice weather will slowly move off to the southeast tonight and tomorrow.
This will help bring a returning flow of moist air back into central North Carolina tomorrow and Thursday. This increase in moisture will cause more clouds to show up tomorrow and Thursday. But there will still be enough sunshine to take afternoon readings into the mid-80s.
Areas south of the Triangle will see readings warming into the upper 80s. Readings in the Fayetteville area might to out near 90 both tomorrow and Thursday.
A storm system over the eastern Great Lakes has a southwest-trailing cold front that extends across western New York State southwest into southern Missouri. This front will move east and south as this surface storm moves farther to the east.
This front will move into southern Virginia and perhaps into northernmost northern North Carolina tomorrow. This might bring a shower to northernmost North Carolina north of the Triangle tomorrow afternoon or tomorrow evening. However, the amount of moisture in the air will not be that great, so any shower development will be very spotty and should stay to the north.
This frontal boundary is expected to stall near the North Carolina Virginia border tomorrow night and Thursday morning. This boundary could still cause a shower in a few spots, especially near and north of the North Carolina/Virginia border tomorrow night and Thursday morning. This front is expected to move north then wash out later Thursday.
A large, upper-level storm system over the southwestern U.S. will move east supporting a surface storm over Texas. This Texas storm will track northeast out of Texas Thursday and move into the eastern Gulf of Mexico during Friday. This will bring deep moisture into the Deep South and over the Southeast. A cold front moving into the Great Lakes on Thursday will link up with this Gulf low pressure area and the moisture surging northward from it. This cold front will move through central North Carolina during Friday and Friday evening with some showers and perhaps a thunderstorm. Current computer forecasts show the deep moisture from the Gulf low staying just south of North Carolina. If this is the case, then there might be just a few showers across the region with no significant rainfall.
This overall storm system is expected to move east and south out of central North Carolina later Friday night. In the wake of this system, a dry and seasonable weather pattern will set up for Saturday of this coming weekend.
Another storm system moving into the lower Great Lakes this coming weekend could bring another cold front into Virginia then North Carolina Sunday of this coming weekend. That front might bring the chance for a shower or thunderstorm sometime Sunday or Sunday night.
Have a great evening!
Brittany Bell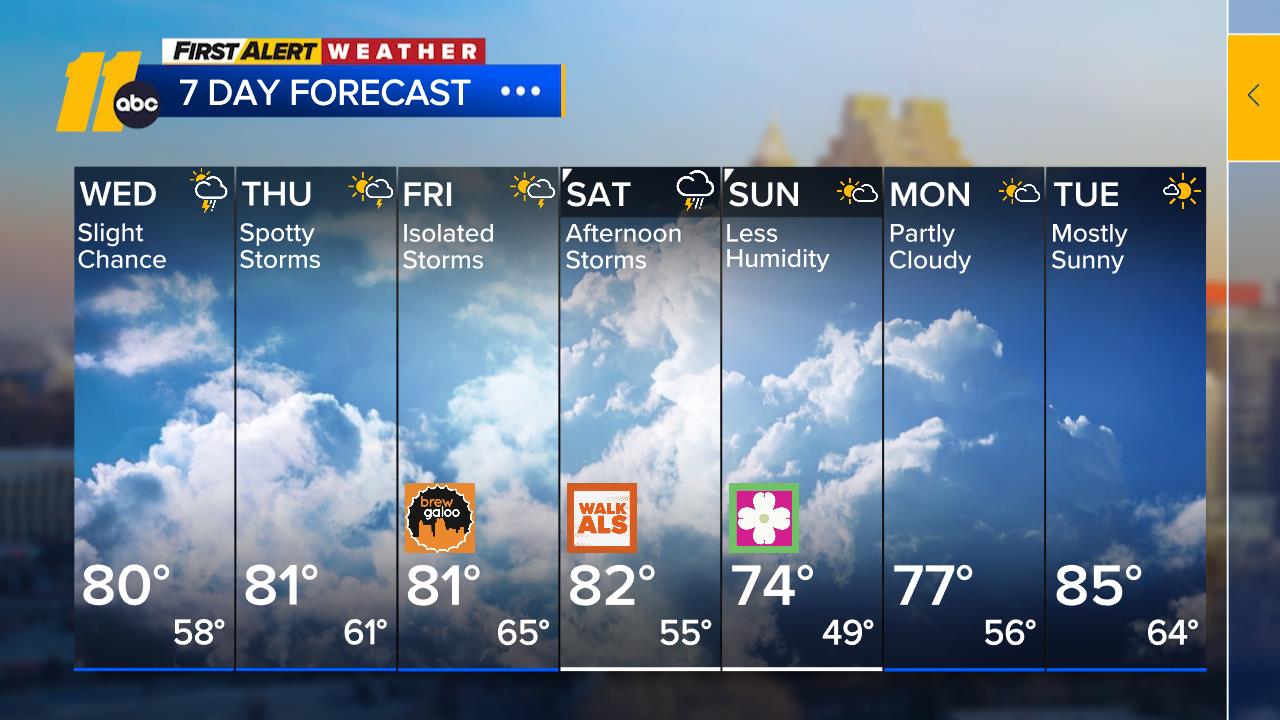 Check the radar anytime with the free AccuWeather app for iPhone and Android today!